Erika's Birthday
Posted on 2013/09/14 22:09:48 (September 2013).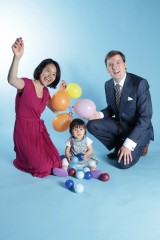 [Tuesday 10th September 2013]
The main celebrations for Erika's birthday had been at the weekend, so today was a relatively quiet affair by comparison.

We decided it might be nice to have some family portraits done, and Chie had arranged a session in a photo studio for this morning. It was an hour and a half session, and at the end the photographer gave us all the files on a DVD for us to do whatever we wanted with. I liked this plan, much better than having to pay some extortionate rate every time you wanted to print one. Erika was a little unsure of what was going on at first, so she isn't smiling in quite a lot of the pictures at the start, but did eventually start to relax a bit. We took a couple of changes of outfit (for us as well as Erika!), and it was, overall, quite a fun experience. I think we ended up with somewhere in the region of 300 photos - I've just uploaded a selection of some of the ones I thought came out best here.

I went to work for the remainder of the daytime, and in the evening I thought it might be nice to go back to the Chelsea and Westminster Hospital, and have dinner at the Carluccio's opposite - I'd got takeaway from there the day Erika was born.



Comment 1
A lovely set of photos, John!!

Posted by Bryan at 2013/09/17 12:37:59.
Post a comment