Box Hill
Posted on 2013/09/29 10:35:03 (September 2013).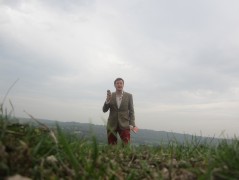 [Saturday 28th September 2013]
Chie took Erika to see Vauxhall City Farm with some of her friends this afternoon, so I was given the afternoon off from parenting duties. I had a bit of a craving for the countryside, and also wanted an excuse to wear my new red trousers I'd bought last weekend, to go with my tweed jacket.

So after a brief foray out to Jermyn Street with Erika in the morning, to pick up said trousers (the legs were unfinished when i'd bought them) and also an Ordnance Survey map of the Box Hill area, I headed out of London around lunchtime in the direction of Surrey.

Despite only being just outside the M25, the train is pretty slow, and it takes almost an hour to get to Box Hill and Westhumble, the nearest station. On arrival I made straight for the main Box Hill viewpoint as marked very prominently on the map, by way of the stepping stones over the river Mole, and up the surprisingly steep steps to the top. Mindful that I wanted to get to the pub before they stopped serving lunch I didn't linger too long, and thanks to the Ordnance Survey managed to locate a fairly direct bridleway which would take me from there to Mickleham, where the Running Horses was. This was probably my favourite bit of the day's walking, the path led up onto a sort of ridge, and heading North rather than South meant the view was largely of other green hills, rather than, as it had been from the famous viewpoint, of Dorking.

I arrived at the Running Horses just before 2:30 (a whole half hour to spare before they stopped serving food). It's a very smart country pub, apparently 16th century, the staff behind the bar dressed in the way you'd expect waiters and waitresses in an upmarket restaurant to be. In addition to the bar area there's a quite formal looking restaurant area - which was empty. I imagine it fills up for Sunday lunch. I decided to sit outside, at least in part because my hasty descent from Box Hill had left me feeling a tad overheated, but also because most of the tables in the bar were taken when I arrived. I enjoyed a leisurely lunch here before heading off on the final leg of the walk, from there back to the station. I think I devised rather a nice circular route in the end.



Post a comment