Sunday in Genoa
Posted on 2014/06/24 23:09:54 (June 2014).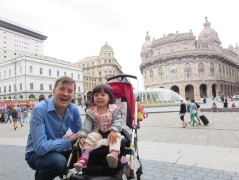 [Sunday 15th June 2014]
Past experiences of hotel breakfasts in Italy have been somewhat underwhelming. Today's rather bucked that trend though - lots of interesting fresh fruit, some really tasty tomatoes, plenty of good breads and pastries and so on. Consequently we spent at least an hour over breakfast this morning.

Headed out for the remainder of the morning for another wander around the interesting streets of Genoa, taking in some of the smarter bits today - Via Garabaldi and the Piazza Ferrari, I think that must be the city's grandest square.

We had booked to have lunch at Osteria di Vico Palla, which I assume to be another of Genoa's very well known restaurants - I had heard about it from multiple sources. Erika fell asleep before we arrived, leaving us to have lunch in peace. It was a lot more bustling than last night's restaurant, and the service was a bit erratic by comparison, but we felt reassured that we were having some kind of authentic local experience. We had fried things to start - I had a plate of panissa (deep fried farinata) which was far too large. Followed by mandilli ("silk handkerchiefs" - thin lasagne sheet) in, of course, pesto.

After lunch we went for a bit of a wander round the port, until Erika woke up, when we went into the aquarium. That took up the bulk of the rest of the afternoon, and Erika seemed to enjoy it she always does at aquariums (aquaria?).

Another wander round Genoa afterwards, culminating with an early evening at Caffe Mangini, another of Genoa's historic cafes. We had an odd sort of mixture there, as Chie wanted coffee and I wanted a Negroni - so Chie had some little cakes to accompany her coffee, and I was given an array of salty bar snacks to go with my drink. I'm not sure the staff really expected customers standing at the counter with a small child in a baby carrier, but we were quite determined to do so regardless. The counter at cafes is typically cheaper than the prices if seated, sometimes dramatically so. This definitely applies to the price of coffee, which seems to be regulated by law to be 1 euro almost everywhere, but not really sure how it affects other prices. Still, I have grown to rather like the atmosphere of standing at the counter, where all the action is, and it's good to not have to wait around for a waiter when it's time to pay.

Wandered back from there to the hotel, and once back at the hotel went and took a look at the children's play area - "the pirate's garden". There was a fairly sizable pirate boat to play on, albeit that it was a bit wet and slippery after the recent rain. We also went and took a look at the roof terrace, which gave the impression it would be very nice were the weather a bit better.

For dinner we decided not to venture too far, and went to one of the hotel's restaurants (technically the restaurant of the hotel next door, I believe, which was apparently owned by the same company). So that meant yet more past with pesto for me - a dish which was somewhere between last night's dinner and today's lunch.



Post a comment