Monterosso to Florence via Pisa
Posted on 2014/06/24 23:09:56 (June 2014).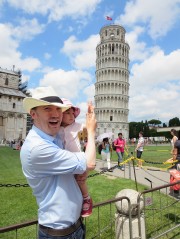 [Friday 20th June 2014]
Pretty much every train journey of this trip turned out to be problematic. I suppose today's experience was the least bad of the three (we didn't end up being robbed, either by the licensed bandit ticket inspectors or more traditional thieves) but it still started rather frustratingly. We arrived at the station in plenty of time to catch our train - almost half an hour beforehand - and I then proceeded to spend almost all of that time in the queue for the ticket office. Infuriatingly an elderly American couple in front of me were planning quite a complicated trip, which wasn't even until next week, and took up at least 15 minutes of the sole member of staff's time, utterly oblivious to the fact there was a long queue of people behind them who were just about to miss their trains as a result. Not even a hint of an apology when they finally finished their transaction, despite increasingly escalated sighs of frustration (not least from me). To cap it all the entire booking system crashed for a while - non funziona - which I assume to be a more than daily occurrence with Trenitalia's shamefully poor infrastructure.

Fortunately our train was actually late, otherwise we would have missed it, with me stuck in the ticket queue all that time. There was no way I was going to even consider getting on board without a ticket. Just a few minutes after leaving Monterosso we then spent something of the order of half an hour stuck in a tunnel for no apparent reason. After that though the remainder of the journey ran smoothly.

We'd decided to break our journey up with a lunchtime stop in Pisa, a city I'd only ever passed through before. I wanted to go and do the standard touristy picture with the leaning tower, etc. We arrived in Pisa around 1:30, dropped our luggage off at the very convenient left luggage facility there, then headed in the direction of a place Kyle and Hannah had recommended for lunch.

We were aiming for the Osteria de Cavalieri, but actually ended up at the Sosta dei Cavalieri across the street. I think they're both owned by the same people. They had a set vegetarian menu (which is I assume why Kyle and Hannah had recommended the place). I started with a really delicious ribollita (a Tuscan soup made with stale bread), then followed with a tasty-but-a-bit-too small aubergine gratin. Erika slept through the whole thing, so I ordered an extra portion of the ribollita to take away for her, thinking it would be the sort of thing she would like, but turned out not be be a big hit.

After that we headed to the leaning tower, at which point Erika conveniently woke up so she could be in the standard touristy pictures too. There then followed an unsuccessful attempt to get Erika to eat some ribollita, whilst she just continually demanded ice cream instead. We didn't bow under pressure and just kept telling her she could have some ice cream if she ate some more of the ribollita. Neither party emerged the victor of this particular battle of wits.

The train from Pisa to Florence was thankfully uneventful, and actually more or less on time. Chie managed to persuade Erika to eat a bit more of the ribollita whilst we were on board.

We arrived in Florence some time around 5:30. Apparently the traffic was quite bad so Lorenzo couldn't easily get to the station to come and pick us up - instead we got a taxi to his house. I was slightly concerned his mind wasn't entirely on the job at hand, as Italy were playing in a World Cup game - and losing, as it turned out. Still, we managed to get to Lorenzo's place in one piece.

Lorenzo has recently had his place refurbished and it is now looking really rather swanky indeed. Also, much to Erika's delight - he has recently acquired two kittens. She was utterly mesmerised by them.

It was our first time to meet Lorenzo's girlfriend Olya, who seems lovely, and was also an instant hit with Erika (there was some controversy when Erika said "Olya" for the first time before she said "Uncle" - which is what she'd decided to call Lorenzo).

We went out for dinner to a place up in the hills above Florence (this is the sort of thing middle classed people delight in saying when they come back from holiday, isn't it?) - called La Casa del Prosciutto, although despite the name they were actually capable to provide a very satisfying vegetarian meal for me. The bruschetta were good, followed by some pasta in an "ortolana" sauce which was good too.



Post a comment