Greenwich and Midnight Apothecary
Posted on 2014/08/30 22:43:47 (August 2014).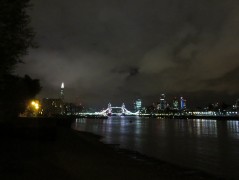 [Saturday 16th August 2014]
Rather a full day.

In the morning I booked a couple of nights at our favourite hotel in Monaco. We went last year just before Erika's birthday, and it had been really nice to have one last guaranteed burst of good weather to finish off the summer. This year's August in London had not been entirely great, so we were keen to do the same again.

My former boss Andrew was passing through London this week, and he'd suggested this morning we set up a "play date" with Erika and his daughter Zia, who is about 10 or 11 months older. It was actually their first time to meet.

As they were staying near Greenwich Park we aimed for there, and I was really impressed with the kids play area there - it was like five or six playgrounds all joined together. Erika was a bit shy at first, as kids of that sort of age always are, but soon was following Zia around, and playing on all the slides, swings etc. When lunchtime came around we headed over to Canary Wharf and went into the branch of Leon there (Andrew is a big fan). Actually it's my first time in a Leon, and it was surprisingly good. We rounded off the play date with, oddly, a bit of jazz, as there was a free jazz festival going on in Canary Wharf. By the end of their time together Erika and Zia were getting on really well, and as we headed away from the jazz festival to get the tube they held hands and walked along together, which was very sweet. Such a shame they live in San Francisco normally!

On the downside I managed to drop my phone on the cobbles on Greenwich, and smashed the screen. Have never smashed the screen on a phone before, and had got away with dropping this one a few times already without any damage. So that was a bit upsetting.

As I had plans to be back at this end of town in the evening I'd originally considered just hanging around, but Erika was ready for her afternoon nap, and it seemed it would be nicer for her to head home so she could nap indoors.

So after dropping Erika off at the flat, I almost immediately headed back out again, and got on a Thames Clipper with the other Andrew from work, who had largely organised our evening jaunt (although it was originally my idea), and a few other people. We got off at Canary Wharf pier, and there change for the ferry service across the river to the Hilton hotel, in Rotherhithe. From there we walked along the river to the Brunel Museum.

On Saturdays in the summer they open up the museum's garden as an open an cocktail bar, which they call the Midnight Apothecary (although it actually closes before 11). Most interestingly they use things actually grown in the garden as ingredients in the garden. So we enjoyed a succession of very tasty (albeit perhaps not particularly boozy) cocktails in the compact little garden, whilst nibbling on food from the Greek grill (wonderfully titled "I Should be Souvlaki"). It was all very pleasant. As an added treat we were also taken down into the subterranean chamber which had been dug initially as an entrance to the tunnel which crosses the Thames here - the reason for the siting of the museum. It had apparently only reopened to the public this year, and we were among the first to go in it. It was a very atmospheric space, and the museum's curator gave a rousing speech at the significance of it, a long list of worlds firsts that the tunnel represented.

Delicious though the cocktails were, it was a relatively short list, and added to the fact that it was getting a bit crowded later on in the evening we decided, for sake of variety, to throw a mini pub crawl into the mix. So for a while we decamped to the Mayflower, just across the road from the Brunel Museum, and then later on also went for a final drink at the Angel, from where we enjoyed the impressive night time views of Tower Bridge.



Post a comment