We May Actually Be Buying A Flat
Posted on 2014/08/30 22:43:49 (August 2014).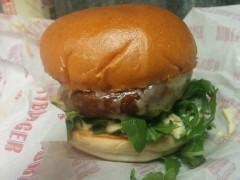 [Tuesday 19th August 2014]
We'd been to look at a few flats in NW5 earlier this year, having initially thought it represented a good compromise on a lot of fronts, in terms of prices, proximity to green space, commuting distance, schooling and so on. That last point had turned out to be more complicated than we first thought, and as a result we had more or less given up on the idea, and I'd gone back to pretty much just burying my head in the sand.

I had, however, set up an alert on Zoopla for properties in the vicinity of one particular school we had our eye on, just in case. One place which had particularly caught my eye a few weeks back - and had predictably immediately gone under offer before we could view it - had over the weekend come back on the market again. I'd phoned yesterday assuming it would have already gone again, but for whatever reason this time it hadn't, so today we went to view it.

It's small (just two bedrooms, one of which is pretty tiny), but still bigger than where we're currently renting, and so many other things about it seemed to be just about right for us that after careful consideration over a "Dirty Burger" (we went here after a previous flat viewing, it seems to be becoming a tradition) we decided to make an offer.

To our cautious delight and surprise we had a call back from the agent later on this afternoon telling us our offer had been accepted.

Obviously I don't want to jinx it, and are fully aware this is a very early stage in the process, of which the seller can easily pull out, but still I couldn't help but feel somewhat jubilant about having got this bit further in the process - we've put in offers on a few places now, and this is the first time we've actually had one accepted.

I felt compelled to share the (tentative) good news with some of the usual suspects at work, with whom property inevitably ends up being a very frequent topic of conversation, and an impromptu celebratory pint at the Duke of Wellington was arranged.

Couldn't stay for long, as I'd arranged to meet Tom for dinner, who was working in London this week. So we started with a pizza at Oliveto, which we followed with a miniature pub crawl around Belgravia - taking in the Antelope, the Nag's Head, and the Grenadier.



Post a comment