Dimsum and the Transport Museum
Posted on 2014/10/04 08:22:45 (October 2014).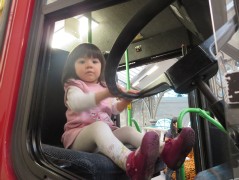 [Saturday 27th September 2014]
Met up with a friend of Chie's and her two kids just before midday, the plan for the afternoon being to go for dimsum in Chinatown, followed by a visit to the London Transport museum.

Lunch at Joy King Lau was a lively affair, even though we arrived as soon as they opened at midday the place very quickly filled up, and on our floor in particular there seemed to be lots of hustle and bustle, and lots of kids. To which our table contributed not insignificantly. Whilst I normally might be a bit sensitive about this sort of thing, today I just let it wash over me - most of the surrounding tables seemed to have kids, and I don't think ours were the loudest. Chie's friend didn't appear to be having a particularly relaxing time of it though, and spent the whole time try to prevent her two from fighting, or crawling on the floor, and neither of them seemed particularly keen on actually eating very much. I attempted to lend her a hand towards the end of the meal by having the little boy, the younger of the two, come and sit on my lap for a bit in an attempt to take him out of harm's way of his sister. He did not seem particularly pleased about this, and Erika also cast some indignant gazes in my direction.

The visit to the museum seemed similarly fraught for Chie's friend, who was constantly trying to stop one or the other of the kids from running off. The little boy in particular seemed to have a particularly bold and energetic temperament in this regard. Again we attempted to help out as best we could, but still we couldn't help but spend most of the afternoon thinking how much easier our lives were for only having the one to look after. That said, at one point Erika did throw a bit of a fit, I don't even recall over what now exactly, and as she was being rather unreasonable Chie pretended to walk off and leave her, prompting almost immediately another Mum to rush up to her and say "have you lost your Mummy?" to which we rather embarrassingly had to intervene and say "no, she's just here, and only pretending to abandon her". The expected disapproving looks were of course forthcoming.

Still, between the tantrums and escape attempts I think the kids enjoyed themselves, the highlights seemed to always involve sitting in the hotly contested driving seat of a variety of trains/buses, and pretending to drive.

We rounded off our day out with Chie's friend and her family with an ice cream, and then a run around in St. James's Park, with the hope of tiring them all out a bit.



Post a comment