Tatershall Castle
Posted on 2014/10/10 22:30:21 (October 2014).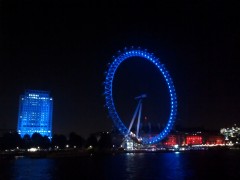 [Friday 3rd October 2014]
Went to visit a nursery in the morning, in the area we'd potentially be moving to should our flat purchase succeed. The process is still rumbling along disappointingly slowly. Up until now visits to the area had been generally very positive, and whilst I'm well aware it is a bit mixed - there are nicer bits and not so nice bits - overall I'd felt generally enthusiastic about being able to explore a new part of London. Today for some reason - perhaps because of facing the reality of having to take Erika away from her current nursery, and having to start commuting - I was a lot less keen on our prospective new neighbourhood. I started to notice the grottier bits more, and felt suddenly quite homesick for the relative pleasantness of SW1 (which, though of course is not also without its grotty bits, like any area of London).

On the plus side, in an odd way this helped me to relax about the flat purchase a bit - given that we've still not yet exchanged contracts, the seller can still of course pull out at any point, and with the frustrating delays caused by solicitors seemingly not wanting to do their jobs, that uncertainty has been dragged out a fair bit. So perhaps seeing some of the downsides of the area was helpful for feeling a bit philosophical about the whole thing.

In the evening, after initially going home and making dinner for the girls, I headed out again to meet some friends from work for a drink or two on the Tatershall Castle, the floating "pub" on the Thames near Embankment. Perhaps because of the morning's activity I wasn't wholly in the mood for it, and the not-really-my-type-of-people that the boat seems to attract didn't help.

The people from work all left well before closing time, so I rounded off the evening with a pint at the Ship and Shovel, wherein I read a lovely account of a barman who had worked there during the 1960s, in the days before that decade killed off the bowler hat.



Post a comment