Arments
Posted on 2014/10/10 22:30:23 (October 2014).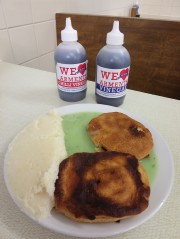 [Tuesday 7th October 2014]
Last night I'd somehow ended up reading about London's pie and mash shops, a subject I'm slightly fascinated by, in part because my job at the moment has got me thinking about local specialities, and I was trying to think what that would mean for London. Of course London attracts a lot of foreign tourists, many of whom seem to associate English cuisine almost exclusively with fish and chips, but I think if you asked English people that's more something they'd associate with seaside towns and/or the north of England, not something London is particularly noted for. Similarly English breakfasts - which although fine examples thereof can be found in London (I am of course thinking about the Regency Cafe) don't really seem particularly unique to the capital. Perhaps afternoon tea might be something more strongly associated with London, what with all the posh hotels here which are famous for it, but again that seemed to not quite fit the bill as it isn't really everyday food for the average person.

So that only really leaves pie and mash as something really specific to London. Whilst of course these two components could just as easily exist elsewhere, the particular style found in London's pie and mash shops is really quite specific and consistent between establishments - the "liquor" (parsley sauce), eels in one of two formats (which nobody ever seems to actually order, in my experience) and the presumably slightly more recent addition to the cuisine of chilli vinegar. Oh and the accompanying sarsaparilla to drink.

As a vegetarian, prior to discovering Manze's I'd just written this whole cuisine off as something which would never be relevant to me. I was delighted and surprised to discover they had a vegetarian pie, but also assumed it to be a one off oddity. In my reading around last night though I discovered two other pie and mash shops also offer a vegetarian pie - G Kelly in Bethnal Green, and Arments in Kennington.

So at the earliest opportunity - lunchtime today - I popped down to Kennington (really quite a trek from the office as it turned out) to sample their wares. Despite Arments celebrating their centenary this year, the interior of the shop doesn't really have much of a sense of history, but regardless it does seem to have a very loyal following, and there was a continuous stream of what I presume to be regulars while I was there. The veggie pies had to be cooked (or at least reheated) to order, and it took a while to do so, but when they finally arrived, with the accompanying mash and liquor, it made for a very satisfying lunch indeed.



Post a comment