Girls off to Japan and Cocktails in Paris with Benoit
Posted on 2014/10/27 21:19:28 (October 2014).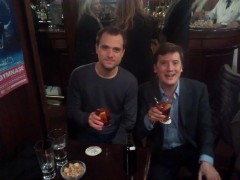 [Friday 24th October 2014]
We'd vaguely planned to go to Japan this Autumn since the early summer, but it had taken some time to pin down the precise arrangements. At the moment I don't have so much of a work reason to be in Tokyo, plus have also close to ran out of holiday days for this year. So whilst Chie was very keen to go to Japan for three weeks, I couldn't really make it work for more than two. So we settled on what seemed like the best compromise - Chie and Erika would go a week earlier than me, I'd follow along for the latter two weeks, and we'd all fly back together. So that meant for the first time today Chie and Erika would be doing the long flight to Japan without me, and I'd have a whole week left to my own devices in London.

In the morning before work I went with the girls to Victoria coach station - it seemed like the easiest way to get to the airport for them to avoid Chie having to lug both Erika and her luggage about - and waved them off. I'd tried as best I could to explain to Erika what the plan was, and that I'd be coming to Japan a week later - she'd sort of nod and repeat what I said but I'm not sure she really got it. Still, hopefully the fun of spending extra time with Chie and seeing "Jiji and Baba" would compensate for the fact I wasn't going to be around.

Whilst Monday to Friday next week I'd of course be working in London as usual, for this coming weekend I had the opportunity to do a bit of travel, and had spent quite a while deliberating over what I could do. Very early plans involved going to Edinburgh, then I considered York for a while, then changed to Liverpool when it seemed like some friends from wok might come along to, but when it eventually turned out nobody else could really make it, I thought sod it, and went back to thinking about where I would most like to go given any possible destination.

So earlier this week I'd come to the perhaps surprising conclusion that I wanted to go back to Monaco. Yes, we had just been there at the start of last month, but I'd really enjoyed it, and wished at the time we could have stayed another night or two.

Planning that had been a bit of a challenge, as it was quite last minute, and the whole point of me staying in London rather than go to Japan was to not use any more holiday, but as ever I was determined to not fly. So I figured out probably the best plan would be to break the journey up a little bit on the way there, and have a night in Paris.

Thus after work today I headed off to St. Pancras to get the Eurostar to Paris. I took some Champagne to help the time pass on the train, and as it turned out I was sat on a table for four, and therefore made three new friends for the duration of the journey. So that was rather fun.

On arrival in Paris I headed to Harry's New York Bar, near l'Opera, to meet up with Benoit for a drink - we'd worked together a few years back, and had often spent evenings exploring London's many fine drinking establishments during that time.

Harry's was a haunt of Hemingway and chums, apparently the birthplace of the bloody mary. So rather ridiculously I had brought with me my own bottle of Worcester sauce substitute - Henderson's Relish - and on ordering our first drink presented that to the barman and asked him to use it instead. He didn't really bat an eyelid, suggesting this probably wasn't the first time this had happened. Benoit pointed out it was a bit odd drinking a bloody mary at this point in the proceedings, and that he was more familiar with it as a hangover cure the next morning. So we decided it was more of a preventative measure.

We folllowed the bloody mary with a couple of Negronis - apparently this was the first time Benoit had had one. Not sure if they're as popular here in Paris as they are in London these days.

I hadn't really had any dinner, apart from a few nibbles shared with my new found Champagne friends on the Eurostar, and a bloody mary, if that counts. So at this point my thoughts turned to finding some kind of late night snack, and we decided to head to the Rue des Rosiers as it wasn't that far away from l'Opera. Of course what we hadn't really thought through beforehand is that the falafel places are Jewish ran, and the sabbath starts Friday evening. So on arrival we found Rue des Rosiers, usually a throng of pita holding guzzlers, mostly deserted. Fortunately one place was still open, which in a pleasingly ironic way had a large sign saying "AUTHENTIQUE FALAFEL" - a claim which of course has to be called in question when it's the only place open in the Jewish quarter on the sabbath. Still, I'm pleased they were open regardless of any doubts over their authenticity - I was hungry.

We rounded off the evening with one final drink in a random bar we happened to be passing, by which time it was after midnight, and I decided after that I really ought to head to my hotel near Gare de Lyon as I had an early start in the morning.



Post a comment