Saturday in Monaco
Posted on 2014/10/27 21:19:28 (October 2014).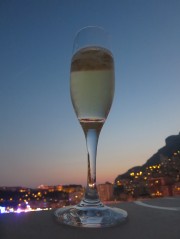 [Saturday 25th October 2014]
I had an early start this morning as I'd booked a seat on the 7:45 TGV from Gare de Lyon, hoping to maximise the time in Monaco. This made the hotel in Gare de Lyon not seem like particularly good value for money, as I only spent about 6 hours in it. Ho, hum.

Despite having a bit of a hangover it was a very pleasant journey on the TGV, at least to begin with. I was in first class, on the upper deck, in a mostly empty carriage so I had lots of space to spread out. It was still dark when we left Paris, and as the sky brightened it revealed a surprisingly misty French landscape, with church spires in little valleys poking out of the mist, which was rather picturesque to watch hurtling by through the train window.

Whilst that was all very pleasant, it became apparent a couple of hours in that I wouldn't be arriving in Monaco just after 2 as hoped - first an animal on the tracks, then an electrical fault, and finally a cancelled connecting train at Nice all conspired together to make me about 2 hours laters than I was supposed to be. Which was a bit frustrating.

I eventually got to Monaco some time after 4, and proceeded directly to the Hotel Hermitage, where I'd be staying this evening. I'd booked a room with a terrace, as I'd remembered last time we stayed at the Hermitage really enjoying sitting on the balcony overlooking the harbour, watching the yachts bob about with a glass of Champagne in hand. This time I'd gone for a smaller room, but it still was of a decent size, and the terrace was almost the same size again, with two sun loungers and a couple of chairs and a table. Slightly surprisingly there was just a sort of hedge either side separating it from the terraces of the neighbouring rooms. I suspected the person on one side was some kind of rock star - I could see tattoos through the hedge - which was a tad disappointing, not really the sort of guest I hoped I'd be sharing the hotel with, having imagined it might be a member of some ancient European aristocratic family. However thankfully whoever they were, they were very quiet and well behaved throughout my stay - I did not bear witness to any television sets being ejected from the window, etc.

I'd decided on the train down that I was looking a bit scruffy so had determined to try and get my hair cut on arrival. Les Thermes Marin, the spa attached to the Hermitage, had a "coiffure" so I'd emailed the concierge from the train to book me an appointment there. That was all pleasingly efficient both from a technological and service point of view. So at 5:30 I popped over to the spa, to have my hair cut in the salon there. I'm not sure it's the best cut I've ever had, but it was certainly the hair cut with the best view I've ever had. I attempted a bit of conversation with the chap who was cutting my hair, although it wasn't very successful as I realised I lacked a lot of French vocabulary when it came to folicular matters. I did point out my usual barber was "quatre vingt dix ans". He also said that London must be an exciting place to live compared to Monaco, which he described as very "tranquil". Perhaps not exactly what I wanted to hear having come here from London for a bit of excitement and glamour.

I returned to my hotel room after that, for what was quite possibly the nicest bit of the trip - and what I'd hoped to have spent a couple more hours doing had my train not been delayed - just sitting out on the balcony, glass of Champagne in hand, taking in the view. Rather ridiculously I'd actually brought a bottle of Champagne with me - perhaps some version of taking coals to Newcastle - but remembering that the mark-up can be exorbitant here. It is after all something of a fungible commodity. For further irony I'd bought it in Belgravia. I caught the end of the sunset whilst out on the terrace, which, combined with the lights from the fun fair that was rather incongruously on this weekend ("hook-a-duck" is not really the sort of gambling one associates with Monte Carlo) made for a very colourful display. I'm really pleased with the photo of all these hues and reflections seen in the stem of the Champagne flute.

Whilst I could quite happily have sat there for the rest of the evening, I thought since I was here I really ought to make the most of it and head out on the town for a bit. So I had a quick bath, and got changed into my suit (I'd brought my Savile Row suit with me, for full effect - and thankfully given it was late October it had just about cooled down enough to wear it comfortably).

I started my evening out with a drink out on the terrace at the Crystal Bar, the bar in the Hotel Hermitage. This of course seemed slightly daft as the view was not entirely dissimilar from the view from my room, where I still had plenty of Champagne left - but of course the point was to mingle with glamorous Monaco types. I'm pleased to report that whilst the bar was relatively quiet, that well heeled, well dressed demographic were definitely present here. I ordered the Sweet Maya, one of the bar's signature cocktails, a Champagne cocktail flavoured with violet. Perhaps a tad on the sweet side for this stage of the evening, but pleasant enough nonetheless.

For dinner I'd had a list of recommendations from the concierge - having requested somewhere with good vegetarian options. Whilst I'd really liked the sound of Elsa, the predominately Italian restaurant at the Monte Carlo Beach hotel, it was a bit of a trek, being technically in France, and so as a plan B I decided to go instead to the brasserie at the Cafe de Paris, very conveniently located on the casino square. Like many restaurants in Monaco, here the menu was French but with Italian influences, which I think probably helped its vegetarian compatability. The meal started with some amuse bouches, including Barbajuans - very Monegasque - and then I had the cream of vegetable soup, followed by the canneloni, with, rather unoriginally, some more Champagne. It was pleasing to see there appeared to be lots of regulars/locals here - perhaps more so now because it was a bit out of season, and I found the general hubbub plus the art deco interior made for a very nice environment.

The next item on the agenda was a visit to the casino. On this occasion it did not turn out to be particularly financially rewarding - my expectation that I will always come away with more money than I had when I went in is of course a bit unrealistic, and not really supported by probability theory, or indeed straightforward economics. Nonetheless this caused the evening to flounder a bit, combined with the fact I hadn't really figured out what I was going to do next.

So I went for a wander to try and find somewhere else to go, hoping to find somewhere lively and upbeat to end the evening. The area around the casino square seemed a bit dead, so I decided to head to Port Hercule. I took a look at the Brasserie de Monaco and "Stars n Bars", both of which did still seem to be quite busy, but didn't really feel in the mood for either, so eventually just decided to call it a night, and head back to my hotel room for a bit more Champagne on the balcony, then bed.



Post a comment