Monaco to Nice to Paris to London
Posted on 2014/10/27 21:19:29 (October 2014).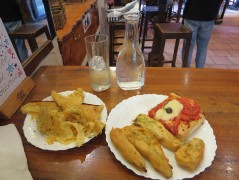 [Sunday 26th October 2014]
Despite my very comfortable bed and very pleasant hotel room, I hadn't managed to sleep all that well, and rather pathetically had started to really miss the girls. In the end I think I might have been better off going somewhere completely new this weekend - seeing lots of places where I'd recently been to with them, but them not being there, actually made me a bit sad.

Still, breakfast at the Hermitage was pleasant enough, I ate outside which was an unexpected treat for the time of year. As I had a while before my train, before checking out I went for a morning stroll around Monaco, heading over to the market at La Condamine, thinking I might sit in one of the cafes there and have a coffee, and maybe buy some porcini or something to take back to London. In the end though I didn't seem to be in the mood for either of those things, and just wanted to get back home as soon as possible.

Given the problems I'd had with trains yesterday, I decided to get on a connecting train from Monaco to Nice an hour earlier than I'd originally planned, which gave me time to have lunch in Nice. I got off the train at Nice Riquier, given that it was a bit closer to the old town, and walked from there to Rene Socca, which I'd really enjoyed on our previous trip. Even though I arrived there before midday, and it was now late October rather than early September, there was a similarly long queue for the socca counter. Whilst the socca and beignets de fleurs de courgettes were very tasty like before, it was twinged with a bit of sadness as again it was a place I'd been to with the girls, but they weren't there this time.

I walked from there to the main station in Nice, where I got on a TGV to Paris around 1:30. As it turned out everything ran to schedule today. Sitting across the aisle from me were a Japanese woman and her young half Japanese / half European daughter, which seemed like a funny and perhaps poignant coincidence. They spoke to each ohter in a mixture of French and Japanese, and it occurred to me I understood pretty much everything they said.

Arrived at Gare de Lyon just after 7, and proceeded directly from there to Gare du Nord. I wandered around outside the station a bit looking for something quick to eat, but didn't find anything which really appealed, so instead made the usual mistake of going through check-in / security for the Eurostar to find an even more bleak environment there. Funnily enough I spotted the three people I'd sat with on the train on the way here - I actually sort of predicted I probably would - but didn't feel in the mood to talk to them, so just went and hid at the other end of the departure lounge.

My return Eurostar left about 8:30, and the carriage my seat was in was ridiculously cramped - there were about 2 inches between my knees and the kness of the person sitting opposite me, and it felt very claustrophobic. So after a few minutes of that I gave up my seat, and wandered the train to try and find an end of a carriage without anyone else in. I actually ended up walking through the business class section, and sitting on a fold down seat in the end of one of those carriages. Amusingly the staff serving the food and drinks to the business class passengers offered them to me too - me being me I turned it down, but it was interesting to see that once the train has left nobody really checks whether you're actually meant to be in business class or not.

The train got back to St. Pancras at 10pm, I jumped on the tube and was back home by 10:30.



Post a comment