Al and Charlotte's Wedding
Posted on 2015/08/11 07:59:29 (August 2015).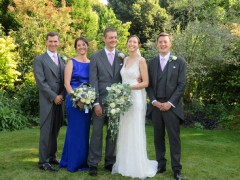 [Saturday 8th August 2015]
I started the day with a rather delightful morning to myself. I was woken perhaps slightly earlier than I might have otherwise chosen, by a combination of the ineffectual curtains in my otherwise charming accommodation (I had rather taken to the gatehouse), and the movements of some heavy farming machinery nearby - it was harvest time after all.

Once showered, I got in my hire car and drove into Sudbury, having noticed on the way here that there was a Waitrose next to the station, and the gatehouse being entirely devoid of anything to eat or drink. It's rather a rarity for me to go to a supermarket by car, and I can't get out of the habit of only ever taking a basket rather than a trolley so I didn't end up with more than I could carry. In the case it was still a useful limiting function since I'd only be there another 24 hours, and all I really needed during that time were some breakfast things and perhaps a light snack for lunch.

I saw some rather nice sunflowers though, and thought they'd brighten up the gatehouse a bit, so bought those. Oh, and of course, a vase to put them in. I rather reminded myself of Robin, particularly when questioned by a random stranger in the aisle as to what I planned to do with the vase (which was technically a "storm lantern") and I made a comment about holiday cottages never having vases.

I didn't dwell too long in Waitrose, despite the fact I was rather enjoying myself, conscious of the fact I'd originally promised to do a bit of chauffeuring for the groom, who owing to some logistics would be carless. So I pottered back to the gatehouse, and made some tea and toast, which I sat out on the back patio eating, which was rather idyllic. Kyle and Hannah arrived whilst I was breakfasting, they were going to be staying in the other bedroom of the gatehouse tonight, and so they joined me on the terrace for a cup of tea.

Not long later it was time for me to head back to Sudbury to pick Chie up from her train, and as I hadn't heard from Al until then we decided it made sense to delegate the chauffeuring responsibilities to Kyle. By the time I returned with Chie Al had also arrived, and so, as can be seen in the pictures, Al and his two groomsmen then could polish their shoes in unison. We needn't have bothered really, since we subsequently had to walk up a rather dusty track to the church from there, and any benefit of having polished my shoes was lost within minutes of setting off for the church.

Thereafter a brief flurry of us all getting changed into our respective wedding attire, and all of a sudden it was time to head off to the church for the ceremony at 2pm.

For the ceremony at least, being best man is quite a good gig. You get to sit/stand right at the front, you feel at the centre of the action, and yet you don't really have to do anything much, other than stand up when nodded to and hand over the rings. All pretty straightforward.

The ceremony went off without a hitch (which almost sounds like a contradiction when the intention of the whole affair is getting hitched), and we were soon spilling out of the church to mill around as people do after church weddings. Then, confetti thrown, and photos taken, onwards to the reception. Although Chie and I did sneak back into the gatehouse to wolf down a Spanish omelette, having not had time to eat beforehand, and not being sure when food at the reception would be forthcoming.

There then followed more milling around in the gardens of Charlotte's parents house, which was very pleasant. It was a very nice day, and somehow (perhaps thanks to the magic undershirt) I was able to retain my composure despite the heat and wearing a three piece suit. I had one or two minor duties in the run-up to dinner, most of which were sprung on me by various other people who seemed to have a far better idea of what was going on than I did - it had not occurred to me that announcing the cutting of the cake was traditionally a best man's job, and having apparently performed that satisfactorily my services were later engaged to help shepherd people in the direction of a large group photo, and then subsequently into dinner.

Of course the big thing for me was then the best man's speech after dinner, with which my thoughts were rather preoccupied throughout the meal. I was reassured to see the mother of the bride and the groom were reading theirs from paper - although I had practiced mine quite a few times, any attempts to do it entirely from memory had not met with much success. On the other hand though both of these speeches were also very good - and funny - and I had a rather hard act to follow.

I think it actually went reasonably well in the end. I had decided not, per the apparent traditions of best mens speeches, to humiliate the groom, or to make use of any humour in poor taste. The only target of any ribbing was myself, and I chose not to take offence. It seemed to garner a few laughs, and I even went off piste a bit in a few parts.

I had been mostly abstaining from any alcohol prior to my speech, paranoid I would slur my words or just generally become woolly minded and mess it all up. Afterwards, despite it having gone quite well, I had a minor panic episode and drank 3 pints of beer in very quick succession. I then started to actually relax and really enjoyed the remainder of the wedding.

Most of the guests left some time after midnight, as all the hotels were some way away, and coaches had been laid on. It was rather nice after doing my final bet man's duties of the day - making sure everyone got onto their coaches - to then just be able to stroll a couple of minutes back to our accomodation. Kyle and I stayed up for a while, having cracked open a small bottle of Port Ellen 7th release which I'd brought with me in case Al needed some Dutch courage before the ceremony (this seemed like the sort of thing a best man should do) but he'd very responsibly declined when offered. So Kyle and I toasted Al and Charlotte in their absence. To the happy couple!



Post a comment