Crass Bonus Day Celebration in St. James's
Posted on 2016/02/03 22:11:23 (February 2016).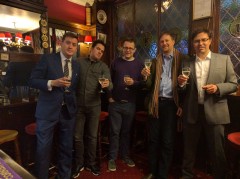 [Thursday 28th January 2016]
As I have often complained about in the past, I have almost always found bonus days to be an anti-climax. Before I worked for a company which had such things I had an image in my mind of wild parties; a day of unbridled hedonism, reckless extravagance, and general decadence of a thoroughly repugnant nature. The reality has always been that there is no perceptible difference in the office whatsoever, save perhaps a restrained murmur amongst colleagues about pension sacrifice schemes, and perhaps at best somebody talking about how they might get their kitchen remodelled.

I feel like this should be one day of the year when people go a bit wild and let off some steam to celebrate all their hard work. But no. Nothing.

I for one struggle with the mundane, the humdrum, the banal. It seems there is even a term in Buddhism for this - sankhara dukkha "the deepest, most subtle level of dukkha" (suffering). The Four Noble Truths do not exactly espouse a boozy evening in St. James's as an antidote to this, and, all credit to Buddhism, they were right - it wasn't really a long term solution. But that's what we did regardless.

It took some arm bending to get anyone from work to do anything really, but eventually I managed to corral some of the usual suspects to go just a bit further than the nearest pub, and some (but crucially not all) of them even managed to dress up a bit for the occasion. In my mind this was probably where the evening had its downfall. We started with martinis at the very civilised Dukes (which mandated a bit of an effort in the clothing department). But that civility is deceptive - their martinis are incredibly strong, and after two of them you should really just call it a night and go home. However, since some members of the group had refused to dress appropriately, we then felt duty bound to meet them afterwards, and effectively we were starting a whole new night out from that point.

I'm not sure it was even that good from that point on. We met the others at the Red Lion on Crown Passage, which, whilst usually a favourite of mine, isn't really the right venue for a celebratory occasion, and I got trapped in a conversation in the corner by an elderly couple who were well meaning but with whom I disagreed on just about every issue that came up. It seemed to be difficult to get the others to leave there, and while I did try and raise the tone a bit by attempting to order Champagne (it turns out they only had prosecco) it just wasn't really the atmosphere I was looking for, and I should have probably gone home before we even got there.

But no, somehow I determined it would be a good idea to take them all to my club (I don't think everyone in the group really met the dress code requirements there, but it doesn't seem to be strictly enforced). So then we were just the one rowdy group in an otherwise quiet and civilised bar. That didn't really work either.

We finished the evening at Brasserie Zedel, wherein I rashly ordered a bottle of Champagne that we realised none of us really had the stomach for.

I'm not sure what the moral of the story is. At least one clear takeaway here is that two martinis at Dukes is more than enough for anyone.



Post a comment