Picture and Play Date
Posted on 2016/03/05 13:05:10 (March 2016).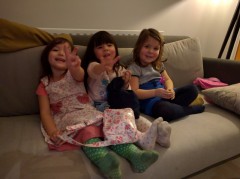 [Sunday 7th February 2016]
There are several pictures we'd bought back when we'd lived in our previous flat that we'd never got round to hanging up on the walls, thanks in part to the slight hesitation I always felt about banging nails into the wall in a rented flat. So one of the really nice things about owning our place was the impunity to do as much of this as we felt like. That said, we had moved in almost a year ago, and still had a few pictures we hadn't got round to putting up, either because they needed framing first, or because they didn't have the necessary hanging wire at the back. The watercolour of Caol Ila Distillery, which I'd bought from the SMWS a few years back, fell into the latter category, but having bought a handy pack of assorted picture hanging paraphernalia at Homebase recently there was now no longer any excuse. So that went up on the wall in the kitchen this morning, and being a light coloured flamed and a fairly bright colour painting, in our very pale coloured kitchen, it looked really good.

In the afternoon we headed down to Brixton for a play date with two of Erika's friends from her formery nursery, who we've kept in touch with. Erika clearly had a lovely time, despite an unfortunate toliet related accident early on in the proceedings (her friend very kindly lent her some of her spare clothes).

Back at home in the evening I rather sacrilegiously paired a bottle of Gevrey Chambertin from Joseph Roty, which deserved a little more respect, with a Star Wars edition Cheesestring, as Erika happened to be eating one.



Post a comment