Dawlish
Posted on 2016/03/30 22:30:09 (March 2016).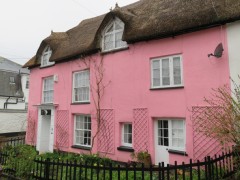 [Saturday 26th March 2016]
I had originally hoped my Dartmoor pub exploration might be at least a two day jaunt, but after the lovely spring day yesterday the weather forecast had been pretty dire for today and the remainder of the weekend (and it proved fairly accurate) so before I'd even come down to Devon I'd already abandoned any plans to do any more than the one day.

Instead today we had a potter around Dawlish for a short while around lunchtime, which was a good illustration of what a bad idea it would have been to attempt anything outdoorsy on Dartmoor today - even in the relatively short period we spent walking round the town, in the midst of civilisation, it felt really cold and wet and I wanted to just go back inside for a nice warm cup of tea.

We did however take a quick look at a cottage I've had my eye on, which is currently for sale - albeit that we could only look at the outside, as were were unable to arrange a viewing for today. As with all of my whims about buying a holiday home I doubt very much that anything will come of it, but this place has quite a draw for me given that it's in the same little row of thatched cottages as the one Vera owned for a few years. Erika said several times she'd like a pink house, near the beach, and this fills both of those criteria perfectly - plus there's a particular sentimental attachment with Dawlish - and this little row of cottages - in that it's where I often went for bucket and spade holidays in my childhood... but of course on the flip side, with Dad living nearby, we can already come to visit the area whenever we want.

We are in the fortunate position of a holiday home not being a pipe dream but actually being something we can realistically afford - at least partly because we have such a modest sized place in London, no bigger than we need for the three of us. I know I've probably said it before, but I'm really reluctant to pour more money into the London property market, as it's such poor value, and there's so many better things we could do with the cash. The cost of this house in Dawlish in particular is roughly the same as what we'd have to pay in our part of London just to get a spare bedroom.

I'm left in quite a quandary as to what to do. I feel quite a burden of responsibility as a joint custodian of Erika's childhood - I think most people's earliest memories are from around the age of four, which she's just coming up to now. Our flat in London is very much a functional compromise, chosen for all the usual banal reasons of locations of offices and schools, whilst trying to minimise the amount of cash we had to shovel onto the London property bonfire. It's nice to own our own place, and it has a bit of character I suppose, but presumably we'd move as soon as work/school requires us to be somewhere else, and maybe I'm wrong but it's really hard to imagine that it's somewhere any of us will get all misty eyed and nostalgic about in years to come. I guess the idea of a holiday home is as much to do with continuity - somewhere we could keep even if we have to move around in London - and somewhere we might hopefully have more of an emotional attachment to than an overpriced shoebox in a grimy part of London.

We spent the remainder of the afternoon back at Dad's house, drinking endless cups of tea. In the evening Dad and I collaborated on dinner, and made a selection of Indian dishes.



Post a comment