Nyetimber Vineyard Tour
Posted on 2016/09/27 22:26:02 (September 2016).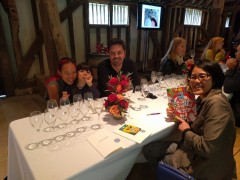 [Saturday 17th September 2016]
As you have probably surmised from recent posts/pictures I am rather obsessed with Nyetimber at the moment. Several factors contributing to this, possibly just including the weather - prior to the summer I had been really into Burgundy, but in the warmer months I seemed to have more of a taste for white and ideally sparkling wine. Also Brexit! Initially rather flippantly I thought I ought to start getting more used to British products as surely the exchange rate must have an effect on Champagne prices at some point (doesn't seem to have yet) and possibly, longer term, even supply issues... but actually then I started to think - politics aside - who needs Champagne? I actually think Nyetimber is now my favourite sparkling wine, even beating old stalwarts like Veuve Clicquot, and there are enough other new English sparkling wines to discover to keep things interesting should I ever want a bit more variety.

Anywho, in the midst my recent Nyetimber craze I'd been starting to think I'd really like to do a vineyard tour. Nyetimber only opens for these two weekends a year, and they tend to sell out months in advance. One of those weekends was this weekend, and I'd sent them an email earlier in the week just on the off chance there were any last minute cancellations. To my delight yesterday they'd replied to say there indeed were, and so I managed to rustle up a couple of likeminded friends from work, and today we headed down to West Sussex.

It's not the easiest of places to get to, being in the middle of the countryside, and a few miles away from the nearest station. Driving there would of course rather defeat the object. As I've been rather craving a bit of a stroll out in the country for a while now I determined we should get the train to Pulborough, then walk from there, stopping off en route at a country pub for lunch before heading on to the vineyard.

The first bit of the walk was a bit dull - Pulborough has one or two nice buildings, but the majority of the town is a bit drab, and the relentless stream of cars on the main road we were walking along didn't exactly give the impression of a rural idyl. Eventually though our route took us off the main road, along a leafy country track, over some open fields, and then through a farm yard to the pleasant little hamlet of Nutbourne - all of which was much more like the sort of thing I had in mind. Thankfully we'd made the executive decision to press on past the first pub we'd seen on the outskirts of Pulborough, as the Rising Sun in Nutbourne was a real treat. Lovely ivy clad exterior, pleasingly quirky and unspoiled interior. They had local wines from not one but two vineyards - Nyetimber (of course) but even closer than that was Nutbourne vineyard - just a few hundred yards away - and given we'd be tasting the full range of Nyetimber at the vineyard later we sampled some Nutbourne at the pub. Very nice too - I particularly liked the blush.

The food was also very good - perhaps most notable was my baked camembert to start, and the excellent tomatoes which also came from just a stone's throw away - it turns out Nutbourne doesn't just have two excellent vineyards on its doorstep, but also a nursery growing some really high end tomatoes, which usually supplies London's best restaurants. The locals here really are spoiled and I have to admit to searching for available properties in Nutbourne when I returned home this evening. What a lovely corner of England.

Alas eventually we had to leave the Rising Sun - I'd have very happily wiled away the rest of the day here - for the 2 o' clock tour and tasting at Nyetimber beckoned. Although I say so myself, my routefinding and overall planning of the day out up to the pub had worked rather perfectly. I think the excellent wine from Nutbourne vineyards has to take part of the blame for the rather less than perfect journey from there to Nyetimber - I'd underestimated how long we'd need by about half an hour somehow, exacerbated by the fact we took a wrong turning, and ended up having to cut across some fields, and climb over a few barbed wire fences. All part of the fun!

So we arrived at Nyetimber well after 2, but they kindly said we could join the tasting of the 2 o' clock session, but the the vineyard tour of the 4 o' clock session - so effectively doing it in reverse. Which suited us just fine.

Nyetimber currently produce five wines - there's their classic cuvee, a blanc de blancs, a rosť, a demi sec and their "Tillington Single Vineyard". We'd tasted all five of these at the tasting at Fortnum and Mason the other day, and the tasting today covered the first four. So there was nothing new, in a sense, but then it's often said that wines taste better at the vineyard, "tasting the terroir" and all that. It's a great setting, in an ancient wooden barn, and the added "adventure" of having got there added to the appreciation.

Then at 4 we tagged along with the vineyard tour of the next group. Vineyards are quite magical places - much like orchards - and with the slightly gloomy weather, and the general elation of the day's plan having all worked out in the end, it had a somewhat otherworldly feel to it. I transported Erika around on my shoulders, we tasted some of the grapes, it was lovely.

An added benefit of our bumbling travel arrangements, highlighted by our late arrival, was that the staff of Nyetimber took pity on us, and offered us the use of their minibus to get from there back to the station. Which was pretty fortunate really, while I would quite happily have tramped back across the fields under my own steam (especially with another stop off at the excellent Rising Sun!) I don't think anyone else in the group was that keen!

Once back at the station, we had just a few minutes before our train, and dinner time was approaching. We'd used up all our snacks for Erika on the way there, and there had been no trolly or anything on the train on the way there. So I darted into the only business of any description selling food near the station - a fish and chips place - and grabbed us some fish and chips to eat on the train. This was particularly fortuitous as the train was delayed en route, and it took a look time to get back to London - so a potential crisis of a tired and hungry toddler was successfully averted. I also cracked open a bottle of Nyetimber to get us home, albeit that my best efforts to improvise with drinking vessels - the little polystyrene cups they have in fish and chip shops for curry sauce etc - did not meet with widespread approval.

Overall an absolutely lovely day out, one of the highlights of the year for me.



Comment 1
Want to try a tour of the nyetimber vineyard in October or November , Any dates

Posted by John broom at 2016/10/01 12:52:33.
Post a comment