Packing and Grandad Nick
Posted on 2016/10/30 06:59:57 (October 2016).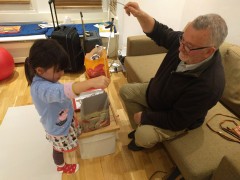 [Thursday 20th October 2016]
My last day at work before the trip to Italy, and in fact my last day working from the Victoria office. While I was away, our things were going to be moved to the new Kings Cross office, so at the end of the day today I had to pack up my desk and put everything in moving crates. I'd been working in Victoria for just shy of a decade, and whilst it's hard to feel too much sentimentality for the office building itself (especially as my time there had been split between two different office buildings), I had grown rather fond of the area, and quite a few of my favourite pubs and restaurants are in the vicinity. Obviously there's nothing to stop me from going back to visit all those places, but I suspect that will probably be a fairly rare event from now on.

Anyway, I didn't have time to dwell on this too much, as I had to get back home to meet Dad and Janie, had arrived from Devon, and were going to stay with us for a night ahead of the trip to Italy. I couldn't quite be bothered with cooking the night before going away, so I ordered in an Indian takeaway from Tiffin Tin, which Dad seemed to quite enjoy, and slightly incongruously served it with a bottle of Nyetimber.

A bittersweet sort of a day all round really - although I was obviously looking forward to the trip to Italy, Chie and Erika would be flying off to Japan the next day, and I always seem to get quite melancholy when on the brink of having to spend time apart like that. Particularly as Erika seemed to have picked up a bit of a cold, and was a bit feverish at bedtime.



Post a comment