London to Paris to Turin
Posted on 2016/10/30 11:48:18 (October 2016).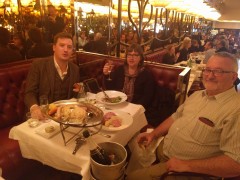 [Friday 21st October 2016]
I had originally planned the week in Italy with Dad to be while Chie and Erika were in Japan, but as it turned out we actually set off in the morning today, and Chie and Erika wouldn't be flying out until the evening. So I felt a bit bad about that, but Erika seemed to be excited about going to Japan - despite feeling slightly under the weather - so it wasn't too traumatic when we said our goodbyes.

I'd booked us into Standard Premier on the way out, knowing that we had a relatively early start, and would probably be nice to have breakfast on the train.

On arrival in Paris, following the advice of the chap who had been sharing our table with us, I ordered an Uber to get us from Gare du Nord to Gare de Lyon. I've only ever used Uber in America before - I don't use them as a matter of policy in London as I'm in the apparent minority among my peers of actually really liking black cabs, and feel as a Londoner that's where my loyalties should lie. The last time we used a taxi in Paris though, the cheeky blighter took us right round La Perepherique, and they also charge you a Euro for each suitcase, which I think is a bit of a cheek. So I feel no such loyalty to Parisian taxi drivers. The Uber across Paris was embarrassingly cheap - something like 11 Euros, and it was also very handy as I didn't have to use cash.

I had decided en route that we should have lunch at a grand looking brasserie near Gare e Lyon called "L'Europeen" - partly because Dad had mumbled something about how there wouldn't really be an opportunities to have seafood in the Piedmont, so I thought he might like this place as that was one of the things they specialise in. He ended up ordering sauerkraut and sausages. My "assiette vegeterienne" was of course a complete joke, but I was entirely expecting this, it being France, and happy that I had a week of excellent Italian food ahead of me, where effortlessly delicious seems to be no problem whatsoever, unlike their French cousins. I did at least enjoy the bottle of Pol Roger we had with lunch, and I suppose the setting had a sort of glamour to it.

Most of the rest of the day was then occupied with the TGV journey from Turin to Paris, which should have taken 5 hours and 37 minutes, but thanks to being stuck behind a slow train for some of the route ended up taking closer to 7 hours. So that did sort of drag a bit towards the end, especially after the Veuve Clicquot ran out and it got dark, but we got there eventually.

We took a taxi from Porta Susa to our apartment for the week, which was next to the Piazza Castello, and in the same building as one of my favourite caffes from my previous trip - Caffe Mulassano. So of course after meeting our hosts (who conveniently lived next door, so didn't seem to mind our late arrival too much), we headed straight Mulassano for a triumphant "we're in Italy!" drink.



Post a comment