Saturday in Turin
Posted on 2016/10/30 11:48:19 (October 2016).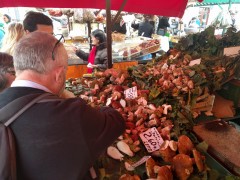 [Saturday 22nd October 2016]
I'd decided it best to not plan to do too much today, thinking we might all be a bit tired after the long journey yesterday, and also as we were planning to cook while we were here we should probably take the opportunity to stock up on food supplies. So the morning was spent at the cast sprawling market in Turin, which, it being a Saturday, was really full swing. Amongst other things we bought fresh porcini and some really nice looking fresh parpadelle to have for dinner later.

Also at the edge of the market I found an impressive wines, spirits and liqueurs shop which helped to partly answer the ongoing question I've had over these past three visits to Turin: "Where's all the vermouth?". It was a real Aladdin's cave, and I was able to find both a bitter aperitivo and a gin made in the Piedmont, which, along with quite a few interesting options for local vermouths allowed me to buy everything I needed for a Negroni Torinese, or perhaps a Negroni Piemontese.

Had a pizza for lunch, at a place which didn't look particularly wonderful on the outside (and hardly anyone else was eating there) but turned out to be decent enough. Although I perhaps slightly regretted ordering the strange "fried pizza" for which I forget the exact name they used on the menu. I thought this might be something like a fried calzone, but instead it was an oddly deconstructed affair, with sticks of fried bread, accompanied by raw tomatoes and mozzarella - more like a salad than a pizza really.

In the afternoon we decided to get the rack railway up to see the Basilica di Superga. The weather didn't really bode all that well for our time in Turin, and Dad thought today might be about as clear as it was likely to get. It was still too hazy to really appreciate much of the view from the top, but I suppose it made for a pleasant enough afternoon outing regardless.

On the way back to the apartment we stopped off at Pasticceria Abrate (confusingly pasticceria means a place selling sweet pastries in Italy, but often these places are more like bars) for an early evening aperitivo, and I managed to talk the bar staff into giving us a sort of vermouth sampling board. I didn't quite recall exactly which was which, but I think Del Professore was one of the stand out winners.

For dinner I cooked, and we had a tomato salad with burrata (Dad apparently had that before) to start, followed by the parpadelle with porcini, which came out rather well even though I do say so myself.

After dinner I was in the mood to see a bit more of Turin's night life - especially given that our remaining nights in Turin would all be Sunday / weeknights. I started off by heading back to an old favourite, Caffe San Carlo. I ordered a Negroni, and asked if there were any variations the bar man could perhaps do for a break from the norm, but he only had fairly run of the mill ingredients to work with, and suggested I ought to go to a more specialised cocktail bar for that.

So I consulted Google Maps, and found "Mago di Oz" which was a lot more modern / youthful but did have a few more interesting bitters / vermouths to experiment with Negroni variants. Actually getting the drink I wanted proved to be a challenge though, the slightly unhinged barman there took me under his wing, and kept insisting I try "just one more" of his own personal concoctions - each of which he also had one of himself - and then, honestly, after that one he'd make me the drink I actually asked for. I'm not sure I ever got the drink I originally asked him for. When I finally called it a night and asked for the bill, he asked me how many drinks I'd had, I shrugged my shoulders and said I didn't really know. He said he didn't really know either.



Post a comment