Alba White Truffle Fair
Posted on 2016/10/30 11:48:19 (October 2016).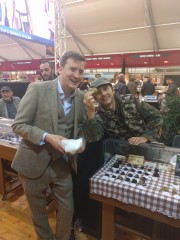 [Sunday 23rd October 2016]
One of the benefits of being based in this corner of Italy for a week at this time of year was being able to go to to the Alba White Truffle Fair. It's staged every weekend in October, and most in November, and people come from all over the world to eat, buy and learn about white truffles.

I hadn't been before, and wasn't quite sure what it was all going to be like, particularly as a lot of the website is in Italian. I had the impression if it was just a case of visiting a market of sorts then it might not be quite enough to fill a whole day out, so I had also enrolled us on the "truffle sensory analysis" session in the morning. This turned out to be quite a good beginner's course starting with general information concerning what exactly a truffle is, where they're found, and what their life cycle is; then moving on to an exercise in how to evaluate the quality of a truffle, and pick the good from the bad. Thankfully although the course instructor spoke in Italian, he was accompanied by a translator who gave us the English version in near real time. There were of course twists and turns when it came to our turn to evaluate some truffle samples - and the vast majority of the attendees failed to pick the one the course instructor deemed to be the best specimen. The particularly surprising learnings from this included the fact that a truffle can actually have too intense a smell, and that's not considered a positive thing (?!?). Also one of the truffles had lots of little holes in it, having been partly eaten by some kind of parasite. That was obviously a bit off-putting to look at, but again in the topsy turvy world of truffle evaluation this is apparently a positive thing - since the little critters only eat the best truffles.

Forearmed with this new knowledge (or more rather a sense that I really had even less idea what I was doing than I originally thought) we headed into the fray of the stalls selling truffles, and I did my best to choose a prize specimen. In the end, it was more a whim than anything else - some of the stalls were manned by the truffle hunters themselves, selling their own bounty, and I chose one of those. A particular truffle caught my eye, about the right size for a meal for three, and not too crazy a price, and the hunter told me had just unearthed it last night. That's always one of the things I've found a bit off-putting about buying truffles in London - the people in the shops never seem to be able to tell you when it was dug up, and for smaller truffles it'll be past its best within 3 or 4 days. So I was very pleased with my purchase here, and it was especially nice to be able to shake hands with the man who had found it for me.

I also bought a nice looking truffle shaver while I was here - a really smart looking one with a wooden handle.

That aside though, the market area of the truffle fair was pretty busy and none of us felt so inclined to browse for an extended period. So after a while we headed out into the streets of Alba for a wander round, and had a slightly frustrating time trying to find something for lunch (ended up just going to a focaccia place).

We then rounded off our visit to Alba at a lovely little caffe called Pettiti, which, from the mirrored signs I could see used to make its own vermouth - so I was reminded of Caravatti in Mantova. Then after that we go the train back to Turin.

We planned to have a late dinner that evening, so I popped out for an aperitivo beforehand, this time trying a bar called Farmacia, where they served Negronis in little medicine bottles, which was a cute idea.

Then the grand finale of the day - our truffle extravaganza for dinner. We started with a pasta course, using the local version of tagliolini they call tajarin in the Piedmount, in a simple buttery sauce, with a bit of a Parmesan type cheese I'd bought, and, of course, a generous covering of the shaved white truffle. Then we followed that with a fonduta, per the Elizabeth David recipe - the Italian version of fondue - also with more shavings of white truffle on top.



Post a comment