Sunrise in Venice
Posted on 2016/10/30 11:48:20 (October 2016).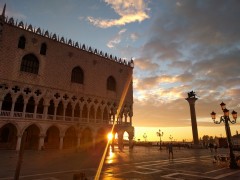 [Thursday 27th October 2016]
As it happens, a few days after this visit to Venice, the Independent compiled a list of the world's least romantic cities, which in true hipster journalism style includes Venice. I suppose I can see how some people might go to Venice and fail to have a good time, but I think they're almost all going to be people who haven't done any research, are a bit naive, and spent their whole trip wading through crowds and being snared by tourist trap restaurants, etc.

That said, on this, my third visit to Venice, I had pretty much just showed up, I'd only done a little bit of research for new places to visit (having focused most of my planning effort for the trip to Italy on Turin, Alba, etc). I'd done the now standard bacaro crawl yesterday, including three new bacari I hadn't been to before - but also recovering a lot of familiar territory. Up until this morning it had been, you know, nice enough, but almost like looking back through my own photos from previous trips rather than the excitement of seeing and experiencing those places for the first time.

I didn't mind too much, I knew it was a very short trip to Venice this time - I was here less than 24 hours - so my expectations were realistic.

Anyway, I happened to wake up quite early this morning. I'd watched the sunset from La Giudecca yesterday, Spritz in hand, which had been lovely for the atmosphere and the overall setting, but it was quite cloudy, so only really a hint of what I know a sunset can be like in Venice. So it occurred to me I was in time this morning to give it a second chance - this time at dawn rather than dusk. Worst case it would be cloudy again, and I'd just have a pleasant early morning stroll through the streets of Venice when there weren't too many people about.

Without really giving it too much thought my feet led me towards San Marco - my hotel was by the Rialto bridge, and you can actually get between the two in not much over 5 minutes when there aren't any slow moving tourists to work around. Even the streets on this major tourist thoroughfare had a magical quality at this time of the morning, the tacky souvenirs all hidden away behind the shutters, and barely a soul about, apart from the odd porter making their early morning deliveries.

On arrival in San Marco I saw a band of golden light at the horizon between the Basilica and the Campanile, and mostly clear skies - I knew at that point I was in for a treat.

To begin with, there was that band of light at the horizon, then further up in the sky dark grey clouds. I saw the sights around San Marco and over to San Giorgio Maggiore through a muted palette, but a majestic one of golds and silvers. I walked up and down the water's edge trying to get the right composition of silhoutted gondolas and lamp posts against that gold and silver backdrop. Probably every one of these frames had been composed a thousand times before, and plenty of them by better photographers and with better cameras... but of course I couldn't stop snapping regardless.

I noticed amongst the handful of other people also feverishly taking photos, just as I was doing, there was a middle aged Chinese lady who didn't appear to have any kind of camera with her at all. Strange really that she was the odd one out. I almost envied her for it - it must be lovely to have the peace of mind to just enjoy a scene like this without the fear that you might be missing out on a great photo.

After I'd been there about 10 minutes, the colours in the sky appeared to fade slightly and I thought perhaps that was the end of the show. In reality it had just been the warm up act. Suddenly, as though somebody flicked a switch, those brooding grey clouds were flecked with pink, and then came the oranges, and the peach, and the whole fruit salad inbetween. It had been elegant before, a sort of restrained majesty to it - but now it was a loud, unabashed, glorious celebration.

I took a lot of photos, some came out better than others - but a few scenes are particularly memorable for me. The view of San Giorgio Maggiore across the water partly in silhouette, against a backdrop of those pink clouds, like a watercolour painting - with the silhouette of a lone seagull in the sky, looking the way a child would draw a bird. Perhaps most showy of all, the sun shining through one of the arches of the Doge's Palace. Finally - at the risk of being overly melodramatic - although I suspect that horse has already bolted - the lion's head bathed in golden light. It's not really of any great photographic merit, but I wondered how many sunrises like this he had seen.

Of course, you can see wonderful sunrises anywhere in the world... but somehow here in Venice, with the way it illuminated the city's magnificent architecture with such gorgeous colours it's as though this is Venice's sun. Doing all of this purely for the sake of Venice. Like witnessing a magnificent stage production, and Venice is commanding the sun to come out of the sea, so the audience can marvel at the spectacle.

Sorry, I've gone a little off piste there, from the usual matter of fact writing style about what I cooked for dinner, and minutiae about how train schedules worked out.... but all of the above was a long winded way of saying two things:

1) Just when I was starting to think maybe I've "done" Venice now, it pulled out something utterly magical like this.

2) The Independent can bugger off.

It was a magical send off, and it almost felt like the city was giving me a parting gift.

I was beaming on my way back to my hotel for breakfast, then sad that I had to check out and head back to the station.

Still, the journey back to Turin was a pleasant one. Again I had a change at Bologna Central, and from there back to Turin I was back on the excellent Frecciarossa 1000, in the extreme luxury of Executive class. I had lunch on the train, delivered to my seat - mozzarella to start, followed by penne with Gorgonzola - both wisely sticking to the principle of using very high quality ingredients but keeping the actual cooking simple. It is on a train after all.

On arrival in Turin I met Dad and Janie at the apartment, and we spent the remainder of the afternoon shopping for things to take back to the UK. First I wanted to go to the toy shop down the road to get something for Erika, then we headed to the big Eataly in Lingotto where I mostly bought lots of pasta.

We were back at the flat just after 6, and for an aperitivo we had the torbolino I'd brought back with me from Venice, served the classic way, with roasted chestnuts (fortunately I'd found someone selling them on a street corner near us). We sat out on the balcony, and there was a tiny hint of a sunset to look at.

For dinner we went to a restaurant near the flat specialising in food from the Piedmont/Liguria, where I had two courses of wild mushrooms, including more deep fried wild mushrooms in batter. I think I preferred the version at Vico Palla in Genoa where they were all porcini - it's actually kind of scary to not be able to recognise what you're eating when you're having wild mushrooms!

Finally Enrico, the owner of the flat we'd been staying in, invited us to go for a drink after dinner (I think we probably could have done with an earlier night given our very early start the next morning, but it seemed rude not to accept the kind offer!). So we had one last drink at our "local" - Caffe Mulassano, and Enrico showed us the button which makes a spinny thing go round on the wall, apparently used when you can't agree who is going to pay the bill.

Unlike earlier in the week, they had their own vermouth back in stock, and although it required quite a bit of persuasion, I got them to do us a half and half of their vermouth and their aperitivo - something like the original cocktail called the Milano e Torino (Campari and vermouth) from which the Negroni is descended. The barman seemed stoically unconvinced by the idea. I wonder if Count Negroni encountered the same thing when he first asked for gin instead of soda.



Comment 1
How have you been?!
your picture is very good!!
beautifull!!




Posted by Chikako from hirosima at 2016/11/03 05:55:59.
Post a comment