Sabrage
Posted on 2017/02/12 11:27:15 (February 2017).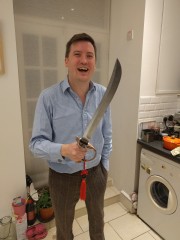 [Sunday 5th February 2017]
One dreary January evening after putting Erika to bed, I'd sat on the sofa, rather bored and fed up, wondering if I could cheer myself up with a frivolous online purchase. So that resulted in my acquiring a Champagne sabre, obviously.

Chie had invited one of her "mamatomo" round to ours this afternoon. The plan was that they were going to pick up our cot which we no longer needed, Erika could have a play with their little boy, and the husband of Chie's friend apparently rather liked beer, wine, spirits etc, so the grown-ups could have a drink or two while the kids were keeping each other entertained.

This was therefore the first opportunity I had since getting the Champagne sabre to put it into practice. I had watched rather a lot of YouTube videos in preparation, had got my bottle of Nyetimber well chilled, and, perhaps slightly OTT, put on the safety goggles I use for trimming the hedge.

Once everything was in place, it actually went rather well - and worked perfectly first time. Here's a video to prove it:



A couple of things I like about the video - you can hear Chie saying (in Japanese): "I don't think it's going to work very w-" - and she was cut off before she could finish the sentence by the sound of the head flying off. Also Erika was surprisingly excited by the whole thing and was cheering and clapping on successful completion - at the risk of immodesty I actually got the impression she was proud of her ridiculous eccentric Dad, which was a great feeling.

Our guests very politely displayed excitement and a sense of being impressed too, although I can't help but wonder if they left later on thinking they'd just fled a madhouse.



Post a comment