Tatami and the Wrong Rabbit
Posted on 2017/06/29 23:41:36 (June 2017).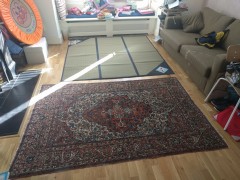 [Friday 16th June 2017]
Tried the new tatami mat out in the lounge. Also after much effort trying to get Erika's lost rabbit returned, I received the wrong one in the post.


Comment 1
John san , itumo arigatou !
Ironna shasin wo mirarete ureshiidesuyo !
Kochiraha 30℃koete totemo atukunarimashita。

Posted by yoko at 2017/07/01 08:29:33.