Erika Learns to Ride a Bike
Posted on 2017/10/07 21:38:48 (October 2017).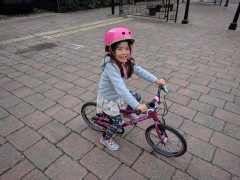 [Sunday 17th September 2017]
I had taken Erika out for bike riding practice a few times since we got her bike earlier this year, and it had occurred to me even though I obviously know how to ride a bike myself, I had no idea how to teach someone else. When I'd ordered her bike, I also stabilisers to come with it, which in the modern era is apparently not considered to be the done thing. I have to slightly beg to differ here having learned to ride a bike in a period of history when stabilisers were the norm, and I don't exactly come from a generation of people who are incapable of cycling, so I have the impression it does all work out in the end. There was a certain joy both for Erika and for me on the day she got her new bike that she was able to ride it straight away without any struggle, and I can't help but wonder if she might not have such a positive reaction to it had it just caused her frustration from the outset.

However, being the highly impressionable types that we are, Chie and I both soaked up all the dogma and after a few initial outings with the stabilisers on we removed them again. We'd then gone through a brief period of removing the pedals too, so Erika could treat it as a sort of balance bike (again, a modern notion of learning to ride a bike which is slightly lost on me). Finally, the last piece of advice we'd taken on board was to hold onto her rather than the bike, as somehow that makes it easier for her to learn to balance.

Along with a lack of intuition on how to teach someone else how to ride a bike, I also had no sense of how long it would take. So when we went out today I was quite prepared for the fact Erika would pedal a bit while I was holding onto her shoulders, and had no particular expectation we'd get much beyond that stage.

We did a few runs exactly like that. At times I would very briefly let go of her shoulders, keeping my hands nearby to catch her, and she'd wobble quite a lot - I didn't really have the sense she was close to balancing by herself.

The pedestrianised bit of road where we were practising gets a lot of foot traffic from locals, and we saw several of Erika's friends and their families passing by while we were there today. When Erika's best friend at school and her family passed by, I briefly paused the cycling lesson to say hello. While I was just momentarily distracted, Erika decided to launch herself off on her bike all by herself. As if by magic, she suddenly got it and in an instant was able to cycle and balance without any help from me. It was quite an amazing moment to watch.


After that, we went for lunch at Wahaca with Andrew and his two kids, and then went to their house for some of the afternoon so Erika and Zia could play together.

In the evening I made a roast meal which I thought came out relatively well. I have long since resigned myself to the fact that my roast potatoes aren't ever going to be quite what I want them to be - I have tried just about every variant on the recipe out there, and suspect the fault lies somehow with my oven... but these were about as good as they ever get.



Post a comment