Box Hill
Posted on 2017/10/07 21:38:53 (October 2017).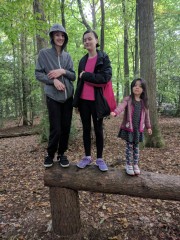 [Saturday 23rd September 2017]
Chie's Dad had gone into hospital a few days ago and Chie wanted to go there to see him, so she flew to Japan this morning. I would be taking care of Erika by myself for the next 11 nights while Chie was away.

Thinking Erika might be a bit sad at the prospect of her Mum going away for a bit, I decided it would be good to visit family today. Erika always loves going to see her cousins, and I thought for a change it might be nice to meet up with them somewhere for a day out in the great outdoors, rather than the usual plan of going to visit them at their house.

So Erika and I got a reasonably early train down to Box Hill and Westhumble (we were up early anyway as Chie had to wake at practically dawn to get to the airport in time). As Adrian et al had things on in the morning today, we'd planned to meet them at the top of Box Hill (where there's a National Trust cafe and car park), so Erika and I did the walk up the hill by ourselves. She did seem a tad apprehensive about the whole thing to start with - presumably she was already feeling a bit out of sorts what with Chie's departure, and then on top of that my slightly unusual proposal to get the train to the middle of nowhere then walk up a big hill... but she was spurred on by the prospect of seeing her cousins at the top (and asked about every 5 minutes "Are they there yet? Who's going to get there first, us or them?"). I think she also enjoyed the famous stepping stones, even though owing to a slight miscalculation on my part we actually arrived at them having already crossed the river at a nearby bridge, so we ended up going over them once and then immediately back across again just for the sake of it.

I was impressed by how well Erika did going up the hill - she only asked to be carried for one relatively short section. It is pretty steep in places, and must have been quite hard work on her little legs. When we got to the top, I thought the views were rather impressive, but it's hard to gauge what sort of an impact things like this have on a 5 year old - she seemed more interested in the conkers we had picked up at the bottom of the hill.

Shortly afterwards we found Adrian, Liz and the kids, and Erika seemed to breathe a sigh of relief (My crazy Daddy hasn't just made we walk all the way up that hill for no reason). We had lunch on one of the picnic benches with a mixture of sandwiches we'd brought with us and a couple of extra things from the cafe - Erika had a sausage roll (or at least some of it) and I had a vegetable pasty. All 8 of us just about managed to fit on a single picnic bench and it was rather nice.

After that we went for a walk around Box Hill's "natural play trail" - which I think was really nicely done - the walk was punctuated every few hundred metres with things like see-saws and climbing frames, all made from the local trees. It was really delightful to see all of the kids actually seeming to genuinely enjoy themselves outdoors, running through the woods and climbing trees. I wish Grandad Nick had been with us, it would have "gladdened his heart" as he would say.

We were having such a nice time I realised I hadn't really been keeping track of the time, and Erika and I were supposed to be back in Kentish Town for a friend's birthday party in the early evening. We'd originally planned to get a train back around 3:30, which was starting to look increasingly impossible. I discussed this with Erika and she initially was very insistent that we should get to her friend's birthday party on time. However when I reframed the question pointing out that if she didn't mind being a bit late to her friend's party we could have an ice cream with her cousins before we left, it seemed to rather change things. So we decided to get the train an hour later, the kids all had an ice cream, then we said our goodbyes and Erika and I bounded back down Box Hill to the station.

On arrival at Victoria we dashed across London to try and not be too late for the party - and in doing so very stupidly rushed onto a tube train as the doors were closing. No injury was incurred, but Erika did get clipped by the door on the way in, and more for the shock of it than the fact it actually hurt at all was quite upset. I was then very cross with myself for doing this with Erika, which was really stupid just for the sake of trying not to be late to a party. I thoroughly deserved all the judgemental stares I received from the other passengers in the carriage, and made a resolution never to do that again.

As it happens we weren't the last people to arrive anyway, which I could easily have predicted, as one family among our local friends are always late to everything!

Even though it was an early dinner (at 5:30) I'm not sure it really worked for a group of 4 or 5 year olds, it didn't seem long before they were getting over excited then over tired and there were a few near misses with waiters carrying plates of food nearly tripped over by seemingly unfettered children. Although the Wahaca in Kentish Town is very kid friendly, and usually half empty at lunchtime, on a Saturday evening it seems to be packed, and I got the impression everyone else was relieved when our table left.

Anyway, slightly wild and unhinged though the latter part of the day was, I was glad of having been able to provide Erika with a very full itinerary for the day, which hopefully helped to take her mind off the fact her Mum was going away for a bit.



Post a comment