London to Venice
Posted on 2017/11/11 10:09:39 (November 2017).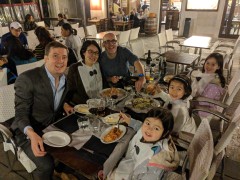 [Saturday 21st October 2017]
So our trip to Venice was finally happening - I'd been planning it from at least as far back a July, which is a lot of forethought by my standards.

We were flying (yes I'd lost that argument again) from Gatwick, and Leon, Aiko and Mei were going to be on the same flight, which was nice. So we met them at the airport, and had lunch together before boarding our flight, which was of course delayed - they always seem to be. The flight itself was fine, Erika sat with Aiko and Mei for a bit which gave us grown-ups a nice break, and then later on she even had a little nap, which surprised me.

Very long wait for our luggage to arrive at Venice airport, which very tedious as I was itching to get to Venice proper, and the kids were also quite understandably getting bored. I think we were waiting over an hour in the end - apparently they couldn't get the door open on the hold or something.

We took the Alilaguna boat from the airport to Venice, our apartment was conveniently located just a short walk from Fondamente Nove, which is the first stop for that board on the main island. It was after 7pm by the time we got there, and therefore already dark -
I'd hoped we might arrive to see Venice in the last few glimmers of daylight, but never mind.

We were met by the agent at Fondamente Nove, who took us to the apartment and got us checked in. It would have been nice to just lounge about for a bit and appreciate our sumptuous surroundings - it was quite a smart place, with (in my opinion) some impressive antiques, paintings etc, but time was pressing and our thoughts had to turn straight away to dinner. I made a snap decision that we should go to the pizza place we'd seen near Fondamente Nove, and I think this worked out pretty well. Impressively we were able to sit outside - possibly with the help of an outdoor heater, but this made for a great welcome to Venice as we were by the sea, dining al fresco in later October. The chap I assumed to be the owner (who humbly described himself as not the owner but the owner's husband) was very friendly and welcoming, and it turned out the actual owner was called Erika, so we immediately felt right at home. There was a Pizza Erika on the menu, which I of course had to order, and was actually very good - an interesting combination of smoked cheese, sun dried tomatoes and pesto. The girls shared a mixture of pizza and spaghetti alle vongole, and it all seemed to go down really well.

It was nearly 10pm by the time we got back to the apartment so the girls went straight to bed, and Chie kindly let me and Leon go out for a bit of an explore. I showed Leon around the bars around the Rialto market - albeit that sadly my favourite bacari near there had already closed for the evening. It was great that it still felt warm enough (to us at least) to stand outside in the square for a drink.



Post a comment