Sunday in Venice
Posted on 2017/11/11 10:09:40 (November 2017).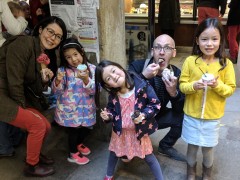 [Sunday 22nd October 2017]
What with the travel and the late night for the girls yesterday, plus being conscious of the fact we still had the whole week ahead of us, we weren't particularly ambitious today, and didn't throw ourselves straight into any rigorous sightseeing itinerary. Instead we stayed fairly local to the flat, with some light exploring of the surrounding area, and focused more on stocking up with provisions, anticipating that we'd be cooking at the apartment for most of the evening meals.

I ventured out with Leon and the girls for breakfast in the morning, which was a bit challenging as Italian breakfasts tend to veer towards sweet pastries, and Leon was a bit wary of these given Aiko's peanut allergy. We eventually found a place selling sandwiches which seemed to work a bit better. Then we went to the Coop to stock up on supplies, but Erika was being a bit of a handful and wanting to buy every random sweet or colourful looking thing she saw, so it was difficult to focus and buy all the necessaries for actually cooking a meal.

For lunch, after a couple of false starts we ended up in a place called Rosa Rossa, which wasn't bad I suppose. Although I think Leon was already starting to feel a bit worn down by the challenge of finding food devoid of any peanuts - although they don't use whole peanuts much in Italian food, peanut oil is quite commonly used for deep frying.

We then went to one of the gelato places I had researched prior to coming - Suso, near the Rialto bridge, and this was a resounding success, all the girls seem to love their gelato and I thought it was pretty good too.

I went back to the Coop again after that to buy all the things I had forgotten to buy earlier because I was too busy wrangling Erika. I planned to make pasta e fagioli for dinner, which I thought would be simple to make and would scale well to large quantities without too much effort, although I still seemed to end up spending what felt like a couple of hours in the kitchen.

I took a break from cooking part way through to take Erika to Fondamente Nove to meet our next group of arrivals - Erika's friend Zoe and her parents. By the end of the week I would have done this ritual of going to meet people off the boat at Fondamente Nove three times and I grew to rather like it.

Stayed in the apartment for the remainder of the evening - I think dinner went down fairly well, at least among the grown-ups - some of the children inevitably wanted to eat just plain boiled pasta but I point blank refused to let Erika do so, and I think she gets now that this is a red line I'm just not prepared to cross!

Once dinner was made (and I'd therefore proved to myself we could successfully feed everyone) I started to relax a bit and enjoy the surroundings of the apartment more, which were really quite lavish. The dining room was very spacious and comfortably accomodated our whole group, and (with the possible exception of all the kids present), could just about squint and imagine I was part of some decadent bohemian set holidaying in Venice in the 1950s as Nancy Mitford used to.



Post a comment