Tuesday in Venice
Posted on 2017/11/11 10:09:41 (November 2017).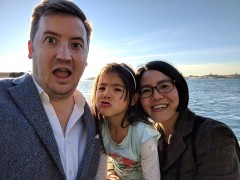 [Tuesday 24th October 2017]
On previous visits to Venice I'd seen all the wonderful produce on offer at the Rialto market and wished I had some means of cooking - we'd always previously stayed in hotels. So this was one of the things I was looking forward to on this trip, for the first time we were staying in an apartment with a fully equipped kitchen.

Jeremy offered to cook this evening, so he led the shopping expedition at the market this morning, and seemed to more or less buy a bit of everything. Meanwhile Chie, Erika, Zoe, Joe and Jenn had gone off to take a proper look at St. Mark's Square, as we'd only really whizzed past it yesterday.

For lunch I met up with Chie, Erika et al at a cheap and cheerful takeaway pasta place conveniently located half way between our apartment and St. Mark's. We sat in a little nearby square to eat it. The little square also conveniently provided us with a gelateria for dessert for the kids.

From there we headed to the Giardini, to see some of the Biennale. This had been part of the original idea when planning this trip. Jeremy and I had got into the habit of occasional late evening pub visits mid-week after our respective offspring had gone to sleep, and we'd got to talking about the Biennale. Jeremy is part of the art world and it turned out is a friend of Phyllida Barlow who was representing the UK this year, so he was keen on the idea of coming to see it, particularly as the slightly more kid focused natured of this holiday would mean being able to do so without having to abandon his parenting responsibilities.

It was interesting observing the differing attitudes of the children present to visiting an art exhibition. Given that both of Alice's parents are arty types, she was obviously quite used to it, albeit that she seemed at times to find more interest in scooping up handfuls of gravel from the park outside the pavilions. Zoe was, from the outset, only interested in when we were getting out of the Biennale so she could instead go to the playground she'd seen on the way in. Aiko and Mei had arrived a little later than the rest of us but only got as far as the playground. I was therefore quite proud of how actively engaged Erika seemed to be in the art, and toward the end when even I was flagging a bit was still enthusiastically advocating going to see more. I think pavilions at the Giardini part of the Biennale are a really nice way to experience art actually - every time you walk through a new door, it's a new surprise - you have no idea what to expect. If it doesn't appeal, you can just walk straight back out again. Some though seemed to be really captivating - I loved the Japanese pavilion, which would have been made for us, with the wooden models of Itsukushima Jinja and the Umi no Tori from Miyajima. The kids all loved Canada, with it's geyser, and Erika and Alice really enjoyed the Austrian pavilion, which practically insisted that you actually touch and interact with all the exhibits. The caravan was a particular hit.

Jeremy was entertainingly sniffy about almost everything he saw, but did of course like Phyllida's work.

I felt slightly sorry for Jeremy, who was clearly in his element, and I suspect would have liked to linger much longer, but having volunteered to cook tonight's dinner was being subjected to gentle pressure from the other parents to get back to the apartment and crack on with it, given that kids of this sort of age group expect to eat unsociably early.

I gave Jeremy a hand with the cooking when we got back, and I think we managed to turn it around impressively quickly - dinner was on the table by about 6:30. Quite an extravaganza this evening, a risotto at the centre of it, with all sorts of seafood and vegetable side dishes, ans essentially all of it just picked based on what looked good at the market.

After dinner Chie again agreed to stay in and look after Erika, while me and Leon went for another night time wander. It started pretty well, with a visit to the very nice Cantina do Spade, where we had an excellent Valpolicella Ripasso - I had pretty much written off valpolicella prior to this as almost always being a bit naff. However things went a bit down hill after that as Leon seemed to be in search of somewhere a bit more lively (Venice is generally a bit sleepy when it comes to nightlife), so we went to "Bacaro Jazz" which obviously exists purely to milk American tourists out of all their Euros. The spritzes were twice as expensive as anywhere else we'd been, and not as good, and on top of that there were of course all the American tourists. I'd hope one quick drink might be enough to get it out of our system, but Leon oddly seemed to like the place, and we were here until past midnight.




Post a comment