Wednesday in Venice
Posted on 2017/11/11 10:09:42 (November 2017).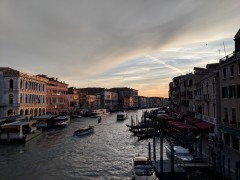 [Wednesday 25th October 2017]
One of the things I wanted to tick off my list on this trip to Venice was to visit Torcello. It's the island further North in the Venetian lagoon which the Venetians first settled before they eventually figured out how to build Venice proper. It's also somewhere Nancy Mitford would occasionally retreat to in the summer months for some peace and quiet when she was trying to work on one of her books. So going here had a sort of pilgrimage like feeling to it, and I also thought it would just be nice to get out on the water and see a bit more of the wider Venetian lagoon.

Unfortunately I didn't actually make it there!

Alice had apparently been quite sick in the night - maybe food poisoning, maybe a stomach bug, we weren't really sure. I'd just assumed she needed to rest it off in the daytime, so we'd left Jeremy and Alice at the apartment, and the rest of us had headed out for the day. Leon, Aiko and Mei decided to come along with us on our trip to Torcello, while Joe, Jenn and Zoe were going home this afternoon, so went out in the morning to do some souvenir shopping.

To get to Torcello from the main island of Venice, you need to first get a vaporetto to Burano (stopping off at Murano en route). Almost at the exact moment that the vaporetto arrived at Burano I received a message from Jeremy that he was actually quite worried about Alice, who was still being sick, and asked me if I could go with him to the hospital. So I just had a few minutes wandering around Burano before the next vaporetto back to the main island came, and jumped on it and headed straight back to Fondamente Nove.

I think I'm actually pretty good in a crisis, and spent the boat journey back to the main island reassuring Jeremy over the phone and also Alice's Mum, who was back in London and had heard about what had happened and was also panicking a bit. It can be difficult in circumstances like this to judge what is an appropriate tone to take. I was quietly confident it was just a tummy bug, and she'd be better in 24 hours, and so sent Jeremy a message betting him 20 Euros that this was the case. Of course this attempt at lightening the mood a bit could have been misjudged, and may have even caused offence that I didn't appear to be taking it seriously, but I think in hindsight it was just about right.

On arrival at Fondamente Nove I jogged back to the flat, and then escorted Jeremy and Alice to the hospital. Knowing that we had a number of small children with us, I'd actually looked on the map before the trip to figure out where it was and how to get there - which at the time I thought was a bit ridiculous.

Of course once actually at the hospital I didn't really provide much apart from moral support - it's not as though my Italian is good enough to translate or anything, but my presence did seem to provide some reassurance. The hospital staff actually spoke pretty good English, and after not too long we saw a doctor, who confirmed my suspicions that it was probably just some kind of stomach bug, and I was soon to be 20 Euros better off.

After a couple of hours, when I was confident Alice was on the mend, I left them to it, and went to meet up with Chie et al again. It turns out they had carried on to Torcello without me, had a quick look round, and were now back on the main island again. It's funny because I'd half tried to talk everyone else out of joining me on the trip to Torcello, thinking it might not be that interesting for everyone else, but in the end they went and I didn't!

After meeting up again, we had a late afternoon / early evening drink and a snack at a bacaro, of sorts, called "Bacarando in Corte dell'Orso". I'm intrigued by these variations on the word bacaro - in addition to this "bacarando" there's also a "bacareto" (da Lele). The latter sounds to me like a diminutive, so is bacarando the opposite? This place does have a sort of restaurant area upstairs.

There had been some ongoing discussion about whether or not we should have a ride on a gondola during our stay. Erika, Aiko and Mei all seemed keen, I was in favour of at least trying it once to say we'd done it, to date though Leon and Chie seemed unconvinced, thinking it a touristy extravagance. So as an initial compromise I proposed having a go on a traghetto, which is the cheap and cheerful alternative - just a simple gondola ferry across from one side of the grand canal to the other. It's all over in a couple of minutes, and only costs a couple of euros (plus I think we only paid for the adults, or they forgot to ask Leon). So that was a brief bit of excitement.

There seemed to be a general reluctance, particularly from Chie and Leon, to go back to the apartment for dinner as the possible spectre of norovirus was looming there, so we stayed out until dinner time, and ate at Cantina do Spade, which worked quite well for the kids as they could try a few different cicchetti. So it was pleasing we had in the end managed to fit in two bacari today, even though they were both of the sort more leaning toward restaurants.

Back to the apartment after that, and bedtime for the kids, whilst their respective parents got thoroughly OCD about them washing their hands etc.

Anne (Alice's Mum) had decided to fly out to Venice, having made the decision earlier in the day when the poor little girl had seemed really quite unwell. By this evening of course she was already starting to get back to normal, albeit quite tired. I sat with Jeremy in the kitchen for some of the evening, talking over the day's dramatic events, while Chie and Leon seemed to both have quarantined themselves in their respective bedrooms for fear of the plague. As Alice had woken up a couple of times during the evening we decided it best if I go and meet Anne, and so for the third time this week I walked to Fondamente Nove to meet an arriving guest off the boat. Strangely I think I was going to miss this little ritual.



Post a comment