Thursday in Venice
Posted on 2017/11/11 10:09:43 (November 2017).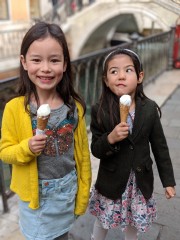 [Thursday 26th October 2017]
Yesterday's dramatic events had rather thrown us off our balance a bit - plus partly by this time I had ticked most things off my to do list, so we were a bit unsure what to do with ourselves today.

Chie was very keen to go and visit a pasticceria - I had marked a few on the map when I was doing my research for the trip, so when Chie, Erika and I finally got ourselves out of the apartment in the morning we headed in the direction of one of those. As it happens Chie had also heard about this particular one - Tonolo - from some Japanese source, and sure enough two Japanese ladies entered just ahead of us. This was really good - huge selection of little cakes and pastries and the staff were friendly. I was amazed when I guessed that a cake which reminded me of a Venetian window was called a "la fenestra" that the lady behind the counter knew what I meant straight away - a very proud moment for my limited Italian! Coffee was also very good, so we were all quite pleased with this start to the day.

For lunch we went to a pizza place Chie had heard about from another Japanese source (I think) called Il Refolo. It was in a lovely spot - in a little square, with tables outside, by a canal, with a little bridge over it (yes I know that sounds like just about everywhere in Venice but it was a particularly nice example of the kind!). When we arrived we had the whole square to ourselves. Erika had the "Peppa Pig" pizza, which had sausages and - shock horror - chips on! It was actually very good though. I had something with pesto on I think. I very much enjoyed watching the rippled reflection of the sunlight from the water projected onto the underside of the bridge - one of my favourite things in Venice.

We meandered back to the apartment after that. Mei was starting to feel a bit unwell now - although thankfully not anything stomach bug-ish, she just had a cough and a bit of a fever, so while she was having a nap in the afternoon, we took Aiko out for a little bit.
One of the things I hadn't yet ticked off my list for this trip was a visit to the Acqua Alta bookshop, which wasn't too far from the apartment as it happens, so having promised the girls we'd go to a gelateria, I made an only very slight detour to go there first. As it turned out, it was such a special place that even the kids really enjoyed it - particularly the stairs in the little yard at the back made entirely out of books. A bookstaircase if you will. I rather enjoyed sitting on the chair by the water door, and pretending a was a Venetian noble.

The gelateria - La Mela Verde (the green apple) - was, in my opinion, a particularly good one. They were very good on their allergen information for Aiko's sake - I had really tried to make an effort on that front this week - and their stracciatella was one of the best I've ever had. Aiko had never tried this before and I felt quite proud that I had introduced it to her.

Headed back to the apartment again after that. In the evening we decided to try and all eat out together, but this was a slightly ill fated plan that didn't really go very well. We didn't really want to go too far from the apartment, which constrained the options a fair bit, and although I was tempted to just go back to the pizza place we'd been to the first night - because we knew it was decent and worked well for the kids - I thought it might be boring for those of the group who went before. So I attempted to choose a different place and misjudged it somewhat - when we got there we realised it was quite upmarket and I for one felt a bit uncomfortable being the only people there with kids. After sitting down Leon decided it was a bit too fussy and would be awkward to order for his two, so the three of them did end up going back to the pizza place from the first night after all. Oh well, you can't win them all. On the plus side they did have an explicitly vegetarian section of the menu, which is a rarity in Italy, and I managed to have a dish with bigoli, a very typically Venetian type of pasta.



Post a comment