Friday in Venice
Posted on 2017/11/11 10:09:43 (November 2017).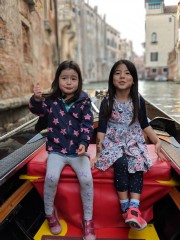 [Friday 27th October 2017]
Last full day in Venice of this trip. I got up early and walked down to St. Mark's to see if I could catch any of the sunrise, but only got a glimpse really. Nothing the glorious display I had on the final morning in Venice last year, but still, it was pleasant enough.

Chie, Erika and I went to another pasticceria in the morning at Chie's request, and it seemed slightly sad that she was only just now starting to get into the wing of things a bit, and find things she wanted to do, when we were almost leaving! Today's pasticceria didn't have quite the huge array of pastries and cakes of yesterday's place, but it felt very genuine, filled with locals who all seemed to know the staff. I think actually Erika preferred her chosen confection from today to the one she had yesterday though.

A slightly confusing thing happened when it came time to pay, I asked for the bill (one of the few phrases I know), then the lady behind the counter handed me a little dish with some change on it. The observant among you will notice one fairly key component typically associated with these transactions had not occurred - I hadn't given them any money yet. I had a surprisingly hard time explaining this to them - I tried saying I haven't actually paid yet and they just motioned towards the change as if to suggest I must have, because there's the change. So I tried pointing at the change and saying "It's not my money!" - which prompted another confused facial expression indicating "Well of course it's not the money you gave to us, it's the change!". In the end I just did my best to leave the amount I think it cost behind which resulted in them politely shrugging their shoulders and wondering why I was giving them such a generous tip.

From there we headed to the Arsenale to see a bit more of the Biennale. The ticket always give you combined entrance to the two venues, and you can go on any day, so Chie was very keen to make use of it while we were still there. I have to admit I was a bit less in the mood for it today than I had been when we went to the Giardini - partly I think the Arsenale part is just not as good fun, but also it was lunchtime and I was starting to get hungry.

We didn't stay too long, had a slightly underwhelming lunch not too far from the Arsenale at a cafe/bakery place, and then started to head back.

I had decided by this point, as it was our last day, and we were now back down to just 6 of us, that we should just grab the bull by the horns and get in a gondola. So we found a gondola station not too far from our apartment, met up with Leon, Aiko and Mei (who was feeling a bit better today, partly propped up by Calpol), and clambered aboard the very wobbly canal going vessel. I knew the girls would like it, I was prepared to accept I might also enjoy it, but even the slightly more cynical Chie and Leon had to admit it was actually very nice. There's a surprising serenity down at the water's level, which for some reason just isn't quite the same as walking along the pathways beside the canals. Our gondolier had kids of a similar age to the girls and so knew how to play up to them with a no doubt well honed mixture of charm and the occasional bit of teasing. Plus they loved it when he deliberately rocked the boat - an act he carried out with the carefully measured precision of a professional. I also managed to get some absolutely cracking photos - in my humble opinion - during our ride - I particularly love the ones of Erika and Mei sitting at the front of the boat.

At the end of the holiday Leon asked Aiko and Mei what their favourite things had been, and was very pleased with the answers - Aiko said the food (especially gratifying as the occasionally slightly fraught exchanges with waiters over peanut oil etc had all been worth it) and Mei said the gondola ride. So definitely 80 Euros well spent!

Of course after the gondola ride it was about that time of day when we almost ritualistically had fallen into the habit of a gelato - and for today's we went back to La Mela Verde as it we had boated past there in the gondola (and in fact saw our gondolier again with his next customers while we were there).

Leon suggested we go back to the Bacarando place for dinner tonight, as they had a similar kind of cichetti offering to Cantina do Spade where we'd had one of our more successful evening meals out with the kids on Wednesday, who seemed to enjoy having all the little morsels to choose from. Unfortunately since the last time we'd been to the Bacarando they seemed to have changed their mind about the type of oil they used for frying, and were now advising Aiko shouldn't eat any of the deep fried seafood things. We managed to just bout work round this, but it was a bit frustrating. So a bit of a damp squid (pun intended) of an ending to the last day, but at least the gondola had been a big highlight!



Post a comment