Lorenzo and Olya's Wedding
Posted on 2017/11/11 10:09:44 (November 2017).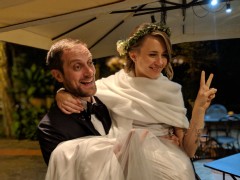 [Saturday 28th October 2017]
Chie, Erika and I had an early start this morning, and were out of the apartment before 7:30. We took a vaporetto from Fondamente Nove bound for the station, a journey which gave us the chance to say goodbye to Venice from the sea, which somehow seems a bit more fitting.

This trip had definitely had its ups and downs. Apart from the hospital drama, we'd had noisy neighbours keeping us up for several nights of the week (only audible in our bedroom, I did at one point bang on the wall, and the noise stopped immediately, but then I felt guilty for being a party pooper), I was covered in mosquito bites (some of which had swollen up alarmingly), the washing machine didn't work and I'd ran out of clean shirts, and the challenge of meal times with at peak 5 children with differing likes and dislikes (not to mention allergies!) had occasionally taken its toll. I think Chie in particular, who was sceptical in the first place about going on holiday with a large group like this, will prove difficult to convince to repeat the exercise in future. I do have to admit that towards the end of the week I had started to yearn for my own bed / washing machine / mosquito free climate.

Still, as I was on the vaporetto and metaphorically heading out to sea (although actually to the station) I couldn't help but feel a twinge of sadness to be leaving. Venice has done this to me before - on my last trip, after feeling like I'd just been retreading old ground for that short visit, and then there was that spectacular sunrise just as I was leaving.

It was a pleasant train journey from Venice to Florence, with a brief change in Padova, giving Erika the chance to buy some garishly coloured marshmallows on a stick.

On arrival in Florence that sense of wanting to be back at home and sleep in my own bed etc, seemed to go straight out the window, and my sense of wanderlust was almost immediately rekindled. Of course, Florence and I are old friends - just as (and precisely because of the fact) Lorenzo is. I first came here 20 years ago!

After quickly dropping off our bags at our hotel - very conveniently right next to the station (I had planned all of this meticulously) we headed straight to the Palazzo Vecchio, and met Lorenzo and the other guests as they were gathered outside. It felt absolutely great to be there on this special day.

The ceremony was short but sweet (exactly the way I think wedding ceremonies should be, can't stand it when they're long drawn out affairs), and then we had the rest of the afternoon to ourselves, as the reception would be in the evening. Tummies were rumbling so we headed straight to a sandwich shop, which despite being moments away from the Duomo et al was actually very good - and I also had a glass of Chianti with it, which always tastes fantastic in Tuscany, and almost always disappointing anywhere else. I also paid my respects quickly at Rivoire, sort of the spiritual home of the Negroni, before we headed back to our hotel to check in properly.

After a quick rest there we headed back out again for a wander round Florence. We motivaed Erika to do so with the promise of gelato at Lorenzo's second favourite gelateria - Vivoli - it's a running joke that he has never told us which is favourite is. I suspect there actually isn't one, he keeps this imaginary place in reserve in case we have any criticisms of Vivoli, but he needn't worry because Vivoli is excellent. I get the impression their gelato is very traditional, and a lot more natural and "real" than many other places - it isn't all piled high and there aren't any bright garish colours. The mirto one was spectacular.

Fit in a couple more sights after that, including the usual visit to the Bartolucci wooden toy shop, the Porcellino, and of course the Ponto Vecchio before taking a slow wander along the Arno to meet Lorenzo's friend Matteo, who would had kindly offered to give us a lift to the reception, which was to be held out in the Tuscan countryside.

I was slightly apprehensive about this setup when I realised the logistics - the reception venue was really quite a way out of Florence, and we wouldn't easily be able to get there or back under our own steam. I had a feeling the party was likely to go on until well past midnight, and was a bit worried this might be pretty tough on Erika.

I needn't have worried, she was incredible, and I was so proud of her.

Lorenzo and Olya had set out a Polaroid camera so guests could take photos of each other and then sign them, and add them to a scrap book. This idea mutated in real time into Erika accompanying the official photographer, and Erika taking photos of people at the party with the Polaroid camera while the official photographer also took photos with her camera. This worked extremely well, not only as it gave Erika something fun to do, and a way of introducing herself to everyone, but the official photographer pointed out that eventually wedding guests can get a bit fed up of the photographer asking them to pose for yet more photos, but a five year old girl with a Polaroid is instantly disarming. So at the start, the photographer was setting up the scenes and Erika was then taking a photo as well, but after a few of these it ended up the other way round, and the official photographer started referring to herself as Erika's assistant.

Food at wedding receptions is usually not particularly memorable, but I really enjoyed the food at Lorenzo and Olya's. Two specific highlights for me were the crostini with cavolo nero and some superbly pungent olive oil, and shredded courgettes in a sauce which was possibly a kind of olive tapenade. Also having to make polite conversation with other wedding guests sat at your table who you didn't previously know can be a bit tedious, but at this wedding it was quite the opposite - I really liked everyone on our table (and everyone else I met at the wedding in fact) and was particularly sad to have to say good buy to Sebastian, my new drinking buddy, at the end of the evening.

The only one very slight wrinkle on an otherwise perfect evening was that right at the end Erika picked up a sparkler which had just gone out by the still hot end. I don't think it was a particularly bad burn - I couldn't see a mark the next morning - but the shock of it caused floods of tears, which was partly just a shame as apart from that there hadn't been as much as the slightest grizzle all day. What a star.

We decided it probably best to think about leaving at that point, as it was midnight by then and that seemed about as far as it was prudent to push it. Thankfully Matteo was also happy to leave at that point so we had a lift back and weren't stranded out in the Tuscan countryside!

Unsurprisingly Erika slept in the car on the way back into Florence, and then woke up feeling car sick, but fortunately a quick stop for fresh air seemed to address that.



Comment 1
It must have been ages since I left a comment on your blog, still, after almost 1 year since this date I can't thank you enough for coming to the wedding! Erika is still a star as of today, I get people asking me about that English/Japanese nice girl with the camera!! :)
Next time you come along we go back to normality with you staying at hime with us! :)

Posted by Lox at 2018/08/01 19:46:50.
Comment 2
It must have been ages since I left a comment on your blog, still, after almost 1 year since this date I can't thank you enough for coming to the wedding! Erika is still a star as of today, I get people asking me about that English/Japanese nice girl with the camera!! :)
Next time you come along we go back to normality with you staying at hime with us! :)

Posted by Lox at 2018/08/01 19:47:00.
Post a comment