Florence to London
Posted on 2017/11/11 10:09:45 (November 2017).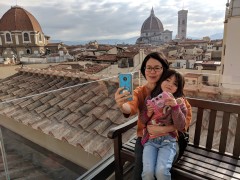 [Sunday 29th October 2017]
Considering it was a later addition to the original itinerary for our Venice trip - in fact I had already booked our flights to and from Venice when I heard Lorenzo was getting married - I am quite proud of how well organised our little Florentine adjunct had been. The Hotel Baglioni was both very comfortable and extremely convenient for our arrival at the station yesterday, and our subsequent quick dash to the Palazzo Vecchio for the ceremony.

Moreover I had predicted we might be a bit tired at the end of our week away - and that the wedding reception might be a bit of a late night - and conscious of the fact Erika would be back in school tomorrow I was keen to ensure we didn't have too early a start today, and that our travel arrangements would be as easy and comfortable as possible. I had originally toyed with the idea of even going back to Venice this morning, which would potentially have allowed us to reschedule our original return flight rather than abandon it altogether, but that would have been quite a faff, and as it turned out those flights were already fully booked anyway. Flying back from Florence airport was by far the quickest and easiest option, which almost translates to the most expensive, but I just decided it was worth the expense in the end.

We still had one little treat left in store for us before we left Florence this morning - we went up to the roof terrace of the hotel from where there were spectacular views of the Duomo and the rest of the city, and we continued to enjoy these over breakfast.

Then it was just a quick and easy taxi ride from there to Florence airport. I'd got us business class tickets for our return journey based on the slightly questionable rationale of "I'm already paying quite a lot, so why not pay a bit more?" so we were able to wile away a bit of time in the business class lounge before boarding. I love that at age 5 this is already the third time Erika has been in a business class lounge, and she is already starting to compare their relative merits, like a seasoned executive.

Erika sat next to me on the plane, Chie having craftily manoeuvred herself into the seat the other side of the aisle from the two of us so she could have some peace and quiet. We'd bought a fairy sticker book in the airport which kept Erika entertained for at least some of the flight. My meal was the exact same thing I'd had on the way back from Nice - a sort of oriental salad with some Japanese mushrooms and pak choi. I think I preferred it first time round when it was novel, but it wasn't bad. A bit odd cold perhaps. Erika opted for the cous cous and falafel, of which she only really ate some of the cous cous.

The flight got us back to City airport, again the same as our return flight from Nice in September. As I've probably said before, I can't ever imagine going as far as to say I like an airport. A good airport is one for me that I spend as little time in as possible. City seems to fill this brief pretty well, and we were back home by 4pm.

On arrival at home I immediately set about laundry - the malfunctioning washing machine in the apartment in Venice had resulted in a bag of superficially clean clothes but which actually had a faintly unsettling odour to them, and I was keen to get rid of it ASAP!



Post a comment