Wassail
Posted on 2018/01/28 09:18:29 (January 2018).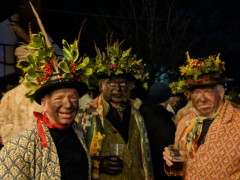 [Saturday 6th January 2018]
I've been wanting to attend a proper wassail for a few years now - the closest thing I had been to was the one at Bankside, and while I think the group the runs that do put on a very good show, it is of course slap bang in the centre of London, so it isn't really quite the same thing, and of course there isn't even an orchard involved.

I had found out about this one before Christmas, and it seems that the Leominster Morris Men pick a different Herefordshire village each year, the requirements being simply that it has an amenable pub and an orchard nearby. Having spent Christmas in Japan before, I knew I would get to the end of the festive season and feel I'd sort of missed out somehow, so this seemed like a good remedy - the wassail being traditionally held on twelfth night.

I had asked Chie and Erika if they'd like to come, but they didn't seem keen, Erika in particular wanted to stay in London as she had two of her friends' birthday parties to attend this weekend. Not to mention that the thought of all the extra travel so soon after getting back from Japan, only to stand in a dark, cold and possibly wet field watching old men clack sticks together may not have been an entirely irresistible proposition. I rather felt I deserved to have a bit of time doing exactly what I wanted to do, so I just decided to go anyway. I did also ask a couple of the usual suspects from work but they all rather predictably balked at the idea of anything involved Morris dancing. I increasingly realise I actually like time by myself, and in particular my little solo jaunts - sadly quite a lot of my interests don't seem to intersect with anyone else I know, or if they do it's just too hard to find times when we're mutually available, and there's a whole bunch of things I would just never do if I relied on having somebody else to go with.

So this morning I donned my most countryside-ish tweed suit (which of course nobody actually living in the countryside would wear anything like, but I like to maintain the ridiculous pretence of it), packed an overnight back, and headed down to Euston, picking up a copy of Country Life, to get the train to Leominster. To my surprise the suggested route was to go up to Crewe, which overshoots Leominster by some distance, and then get a local train back down from there to Leominster. It was about three hour journey. I sat in First Class for the first leg, reading my copy of Country Life, and it was very pleasant. No First Class on the second train, but still pleasant enough watching the scenery go by.

On arrival in Leominster I had still not, as yet, figured out how exactly I was going to get from there to the village of Dilwyn, where the wassail was to be held, some 6 or 7 miles away. I had perhaps rather naively hoped there might be a taxi rank at the station. There was not. I thought that was perhaps just as well, as I did need to stock up on supplies, given that there isn't a shop in Dilwyn. So I had a bit of a meander around the town, keeping an eye out for any obvious taxi offices as I went, and then eventually just decided to head to the slightly out of town supermarket, stock up on whatever victuals I might need for the rest of the day, then managed to call a taxi from there.

I inquired of the taxi driver whether they'd be able to pick me up again the next morning, but apparently they wouldn't be working, it being a Sunday. No matter, I thought, I'm sure one of the other local taxi companies would be able to.

Anyway, I arrived in Dilwyn around 3:40, found the cottage where I'd be staying for the evening - which was small but well equipped - and then had a little wander round the village. This took all of about five minutes - and the place looked completely deserted - there was the pub, a church, and that was pretty much it. No real signs at the pub that there was going to be a big event on the evening, so I did check on the web a couple of times to make absolutely sure I was in the right place.

I decided to settle into my cottage for a bit, tried in vain to find a taxi company in the area who was actually going to be working tomorrow morning, then set about making dinner. I had just bought lazy things from the supermarket which only need bunging in the oven but still felt a sense of achievement at being able to prepare a meal in unfamiliar surroundings, in the middle of nowhere, and the end result was actually quite nice.

The cottage was very close to the pub, and from about 6:30 I started being able to hear a bit of a hub-bub outside. A short while later I actually ventured outside and the contrast from the deserted village I had arrived at earlier was quite striking - suddenly there were about a hundred people outside the pub.

There was some amount of milling about, and I took the opportunity to try and get pictures of some of the Morris Men while they weren't busy. I thought their outfits were rather impressive. The proceedings eventually got underway around 7:30, when the squire stood on a bench and addressed the crowds, and torches started to be lit.

The assembled throng - now probably in the region of 300 people - then processed from the pub to the orchard, about a 10 or 15 minute walk away. There was a slight incline on the road, and looking back down the hill seeing the stream of torch bearing locals was quite a sight to behold - and I imagine would have been quite unnerving if you'd come across it by chance without knowing what was going on.

On arrival in the orchard, the Morris men gathered in the centre around the particular tree chosen for the ceremony, while the throng formed a large circle around it, where there were bonfires to be lit with our torches. As the orchard filled with smoke and firelight there was quite an atmosphere. I couldn't make out everything the Morris men were saying, but understood broadly they were blessing the tree, asking for a good crop of apples next year, and so on. Some dancing then ensued.

It was a wonderfully clear night, and on the way back to the village I saw a shooting star. It was quite magical.

Once back at the pub the Morris Men performed their Mummer's Play, which, as is the tradition, is an odd mixture of ancient British legends (St. George and the dragon, etc) and topical references to current affairs. There then followed more Morris dancing outside the pub, including some audience participation, before those remaining retreated back inside as it was getting a bit cold. My feet were particularly chilly, and I decided to pop back to my cottage for a little bit, to avail myself of both my own private toilet (there were queues for the pub toilets) plus the underfloor heating to thaw out the paws a bit.

Tempting though it was to just call it a night and stay inside my very cosy cottage, I forced myself to head back to the pub for a last half hour or so. The Morris men were doing spontaneous bouts of music and singing, just as the mood took them, not a set performance on a stage, just standing among the other patrons of the pub. It's impossible to imagine something like that happening in London, and although it's a long time since I've deliberately chosen to go and listen to any kind of live music, I thought it was really rather special. I chatted to one of the Morris men between songs, I didn't have to tell him I had come up from London as he could tell from my ridiculous "this is what people in London think people in the country wear" attire - which these days is even one more level removed from that, as I'm seemingly the only person left who goes along with the silly charade, so it's more like "this is what people in the country think people in London think people in the country wear". I mentioned that I had been an apprentice for a little bit on a Morris side my Dad was on, which was nice as he told me the apprentice on their side was in fact his son. The few songs I could remember the names of from that time he had heard of too, and was able to play a few notes of on his fiddle. He said surprisingly there are in fact Morris sides in London, including the Hammersmith Morris Men, who are pretty well regarded.

Eventually I headed back over the road to my cottage and went to bed, knowing that, having failed to find a taxi company who were actually working, that I had an early start and a long walk ahead of me!



Post a comment