Christian
Posted on 2018/01/28 09:57:28 (January 2018).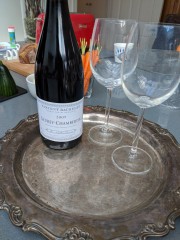 [Saturday 13th January 2018]
Christian, a friend from work, had mentioned yesterday that his wife was going to be away this weekend, leaving him to look after his 1 and a half year old daughter by himself, and he seemed to be displaying a tiny bit of apprehension about this prospect. So I gallantly offered my services to come and visit, with Erika in tow, and Erika would entertain Christian's daughter while I provided Christian with some grown-up conversation plus an excuse to open a bottle of wine.

I initially thought this might be a hard sell to Erika, but quickly she got a grasp of the scenario and commendably was very game about mucking in and doing her bit, despite not having met Christian's daughter before, and there being a bit of an age gap.

I think this plan broadly worked out well, and Erika did indeed play very nicely with Christian's daughter. After a while she did start to get a bit assertive though - having figured out what an extremely pleasant and courteous sort of a chap Christian is she eventually started ordering him about, deeming that he should transform his lounge into a makeshift disco. I of course was powerless to intervene, being merely Erika's father. Apparently Christian's daughter loved the disco so the greater good was served, and I hope we will be remembered, on balance, as good guests.

We had some very nice wine, Christian is something of an oenophile, and has been for a number of years I suspect (not a Johnny come lately like me). He is well aware of my obsession with Gevrey Chambertin, so had laid on what I thought was a particularly pleasant example, and conditioned well in his rather impressive cellar - a 2009 from Vincent Bachelet.





Post a comment