The Green Dragon
Posted on 2018/03/04 11:28:38 (March 2018).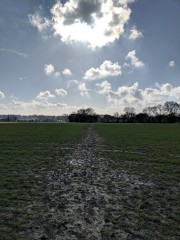 [Saturday 17th February 2018]
I'd been given the daytime off from parenting as Chie and Erika were going to visit Japanese friends for the day, and so I decided to continue on my theme of weekend walks, ideally out in the country, time permitting, and ideally involving a pub. I'd been looking through CAMRA's inventory of historic pub interiors, focusing just on those "of national importance" within an hour's train journey of London, and so today settled on the Green Dragon at Flaunden.

This time was a bit too short notice to get any of my usual country pub going friends along, so was more of a solo expedition, but I didn't mind particularly - it takes the pressure off a bit actually - if the walk gets a bit long and boring or the pub ends up a bit underwhelming then there's nobody else to complain. Both of these criticisms would not have been entirely unfair if said of today's outing, as it turned out, but I was just happy to be out in the fresh air, with a little bit of a sense of adventure.

I started by getting the tube down to Euston, and from there the train to Hemel Hempstead. I was impressed by how a first class single was only about four quid more, and surprised based on that bargain price to have the first class compartment entirely to myself.

On arrival in Hemel Hempstead I changed into my walking boots - expecting quite severe mud (a prediction which turned out to be quite accurate) - and whilst the eccentric in me likes to doggedly wear brogues regardless of the setting there does come a point where the ability to consistently remain upright whilst proceeding at a reasonable pace seems quite desirable.

The first bit of the walk was possibly one of the nicest bits actually - Hemel Hempstead station is very considerately right at the edge of the town, so it only takes a few minutes before I got a sense of being in the countryside, following the Chilterns Way initially through woodland, past some quite attractive and surprisingly rustic looking dwellings, and then eventually out onto open fields. It was the open fields where the mud was particularly prevalent, and I have to admit after half an hour or so of open fields I was starting to get just ever so slightly bored of the terrain. It took about an hour and a half in total from Hemel Hempstead to Flaunden, and the timing worked quite well as I arrived at the Green Dragon just a few minutes before they opened at midday. Just enough time to change back into my brogues - partly out of consideration for the floor of the pub given how much mud my walking boots had attracted, but also of course because standards must be maintained.

I had planned to arrive early - partly just to make the most of the day so I could get back and spend a few hours with Chie and Erika later on - but also because I very much wanted to to bag a seat in the historic tap room - the sole reason for the pub's inclusion in CAMRA's inventory - and assumed all the locals would similarly pour in at midday with exactly the same thing in mind. I had perhaps slightly over estimated the demand, and was in fact the only customer in the pub for the entire duration of my visit. To that end, nice though the tap room was, I suspect I wasn't really seeing the pub in its best light, and it did feel ever so slightly sad in there in the absence of any other people. They weren't able to serve any food - "a problem with the chef" - and as I was actually quite hungry after my morning's walk I decided I should just have a quick pint and then head on to the backup pub I'd identified with exactly this sort of contingency in mind.

This middle leg of the day's walking, down the hill from Flaunden to Chenies, was a bit more varied and interesting than the latter part of the first leg. A welcome change from the seemingly endless open fields. There was a nice wooded section, and then a little bit along the river Chess, which was very pleasant. One final trudge across a field at the end of it brought me right into the back of the Red Lion.

The words "aukartic free house" on the exterior had perhaps set my expectations for something a bit more quirky and eccentric than the reality actually was. It was a fairly bland interior, and I decided instead to sit in the little courtyard at the side of the pub, which was pleasant enough. I had a sandwich and some chips for lunch, which was fine I suppose.

I decided after lunch to head back to London, as it turned out by this point the nearest station was Chorleywood - the birthplace of awful mass produced sliced bread, no less. This final leg of the walk was rather dull, mostly along a fairly main road, the sort where the verges either side are strewn with litter, presumably thrown out of moving cars. On arrival in Chorleywood I had a bit of time to kill before the next train so I took a quick look around the high street. It's not a very big place but has two independent bakers, which I found slightly ironic.

The train as it turned out was in fact the metropolitan line. It felt slightly surreal having walked 6 or 7 miles through the countryside to then tap in on an Oyster card reader.



Post a comment