Playdate
Posted on 2018/03/18 11:30:38 (March 2018).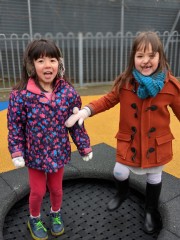 [Saturday 17th March 2018]
Erika had a friend from her first nursery come to visit Kentish Town for a playdate, starting with lunch at Wahaca.


Comment 1
sakura!? saiterune!!
yuki ga tiratuku kurai samui noni....
Erika no tanosisouna,
sosite Captain no shasin
totemo kawaiine!


Posted by yoko at 2018/03/19 12:35:38.