Berkhamstead and Frithsden Vineyard
Posted on 2018/05/13 23:26:44 (May 2018).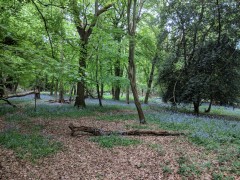 [Saturday 12th May 2018]
Was granted some free time in the daytime today and decided to go for another of my walks. This time I decided to head to Berkhamstead - mainly because it wasn't too far from Euston station, an easy station to get to, and on the map the surrounding area looked quite green.

On most of these walks I've been glad to be able to get out of whatever town I start the walk in as quickly possible and get into something resembling countryside. Berkhamstead however was a pleasant surprise, not wholly unpleasant and and of itself, and my walk commenced with a nice stretch along the canal which runs through the centre of the town, lined for the most part with pretty gardens, and occasionally a moderately picturesque dwelling, plus the occasional canalside pub.

After leaving the canal I joined the Hertfordshire way, which to begin with followed a country lane. Although I'm usually less keen on walking along roads, this was actually one of the nicest stretches of the walk, when I suddenly experienced a wonderful feeling of isolation - apart from the odd passing car I had that delightful sense that there was nobody for miles around, such a welcome contrast to being so hemmed in on all sides in London. Recently on these walks those moments have been quite euphoric.

I then reached Potten End, where I'd considered stopping for lunch at one of two possible pubs there, but the first I could tell at a glance was far to gastropubby for me, and the second, much more of a local's pub feel, looked like it might be OK, but I decided instead to press on for Frithsden Vineyard.

This must be one of the closest vineyards to London, and quite possibly the closest to home, in North London, as most of them tend to be down South. It's on a very small scale, a sort of pet project of the owners who had a house with a bit of spare land, but nice nonetheless. I had timed it quite well by chance today as they were having an open day, and had a barbecue going. Alas they don't have any sparkling wine at the moment, so I tried their (still) white and rose, both of which were pleasant enough, but neither exactly my cup of tea. As it turned out the vineyard is actually for sale, but at £1.75 million with the attached house being modern and not particularly beguiling I don't think I'll be putting in an offer. Still, a nice spot and a nice feature of my day out.

From there I broadly headed back in the direction of Berkhamstead again, albeit this time a different route, initially through a very pleasant little bit of woodland, where I enjoyed possibly the last of the bluebells of the season, and then across the golf course and finally through meadows filled with buttercups and back into Berkhamstead. Caught a bit of rain en route, but felt blissfully unconcerned.



Post a comment