South Downs Way
Posted on 2018/07/29 13:37:55 (July 2018).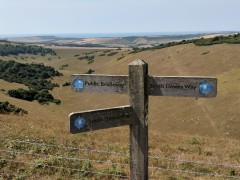 [Friday 27th July 2018]
I had been keen to do some walking while Chie and Erika were in Japan, and having initially considered Offa's Dyke, I was swayed instead instead in the direction of the South Downs for the twin advantages of being quicker to get to from London and also the possibility of including a vineyard tour while in the area! So after some thought about the specifics, I decided to start at one end of the South Downs Way - Eastbourne - and walk as far as Southease / Lewes today, which would then put me in an ideal location for visiting Breaky Bottom vineyard tomorrow.

So I woke up early, packed my new backpack (chosen for better ventilation around the back, given the hot weather) and got the tube down to Victoria in time for the 08:16 train to Eastbourne. This got me to Eastbourne a bit before 10, and with a couple of stops for a late breakfast and to buy a large bottle of water I began to head out of town to start my walk on the South Downs Way.

I had been quite apprehensive about the weather - it was already really quite hot even at 10 in the morning, and of course the South Downs Way being mostly along ridges and hilltops is not exactly well known for its shade. The first climb out of Eastbourne was definitely a bit of a challenge, and by the time I had joined the South Downs Way proper I was already starting to wonder if this was a good idea!

However once I'd got to the top of that first hill, and the path levelled off a bit, with the addition of a light breeze and I suppose just generally having got into my stride, I started to find it a bit more manageable. I'd been very sensible, was wearing a hat, and applied plenty of suncream, and even went as far as to remove my cufflinks and roll up my sleeves.

By around 11:30 I arrived in Jevington, first of the two villages I'd be passing through on today's walk. I considered having a brief stop here, but decided it might be better to just power on through. I took a couple of photos including the place where banoffee pie was invented. Something I couldn't get particularly excited about as I don't really like banoffee pie.

One thing that did occur to me at Jevington was that, reassuring though it was to have these brief glimpses of civilisation, it did mean the path would be descending into a valley and then ascending again. The climb out of Jevington was another bit of a slog in this heat, and by the time I got to the top again I was starting to feel ever so slightly delirious (in a silly sort of way), and, as midday struck, took to singing Mad Dogs and Englishmen, which felt quite appropriate in the circumstances.

There was hardly anyone else around at this point, and somewhere around the top of Windover Hill (or possibly just before) I was treated to really spectacular scenery, and any earlier doubts about whether or not this adventure had been a good idea in this heat sank away. To the south I could see all the way to the sea, and the white horse on a hill above the Cuckmere river, between where I stood and Seaford. The grass was parched and golden as a result of the recent heatwave, in contrast to the dark greens of the wooded patches on the surrounding hills. Perhaps the main thing was that there were so few signs of civilisation in view - the nearby towns and villages were all down in the valleys or clustered along the coast - all hidden by hills from this vantage point. Before coming on this trip I'd been slightly sceptical about how wild the South Downs would feel, being in South East England, and only an hour or so away by train from London... but here I was with barely a house in sight, the signs of civilisation having mercifully fallen between the cracks. I think this was probably the nicest section of the walk - I'd acclimatised to the heat, got into my stride, wasn't yet suffering from blisters and the scenery was spectacular - I was thoroughly enjoying myself.

Sadly I managed to miss The Long Man, near the summit of Windover Hill - my mind was just on other things at that point I suppose. Beyond the summit of Windover Hill I started a long slow descent towards Alfriston, and was grateful for having done the walk in this direction, so that entirely exposed section of the path, with the slightly unforgiving chalk underfoot, in this sweltering heat, was downhill for me rather than up. There was at least a short section near the bottom in the shade, which was much appreciated.

At just after 1 o' clock - perfectly timed for a lunchbreak - I arrived in Alfriston, a delightfully quaint little village, with a very generous selection of pubs for what seemed to be such a small settlement - presumably largely sustained by walkers and other visitors. I'd already researched the luncheon options a bit prior to the trip, and had already written one pub off for being a bit too gastro. I inspected the menu at one of the two remaining options but nothing really appealed, so I plumped for the third and final pub, Ye Olde Smuggler's Inne, which I'm confident was the right choice for me. It was nice and quiet in there, I received a warm welcome from the landlord, and the beer selection looked good, although in the interests of hydration I opted for a shandy. The food was decent and homecooked, and provided sustenance without leaving me feeling bloated, ideal for continuing on my walk afterwards.

I also had an ice cream while in the village, and wasted a bit of time trying to find a recycling bin for an empty water bottle before eventually just giving up and stuffing it back in my bag, and then set about finding where the South Downs Way continued from Alfriston.

There was of course now a bit of a climb to deal with again, which was, again, a bit wearing in this heat, but I did start to get an impression of a slight change in the air, and was aware that rain was forecast for later on, so it was perhaps starting to cool off a bit. Once back up on the top of the next ridge I was in my element again, and between there and Firle Beacon was another very pleasant stretch, with more sprawling views far into the distance. I stopped for a short break at the trig point at Firle Beacon to take in the panorama - I could see for miles in every direction.

I think that was probably the final high point of the walk not just in altitude but in terms of my enjoyment, and after that it did start to turn into a bit of a trudge. This was about the 12 mile point, and I can't remember the last time I'd done that many miles in one day, especially given the at times quite rocky and unforgiving paths along the South Downs Way. I wasn't particularly physically tired, but my feet were definitely getting quite sore, and overall the joie de vivre was starting to ebb a tad.

From here on the sky also started to darken quite noticeably, and just after 4 I heard a rumble of thunder, followed not long after by a sudden downpour. I was very glad to have brought along a waterproof coat and to have a rain cover for my backpack. I suppose to begin with the rain was actually quite refreshing, but my trousers, not really designed for walking, quickly got completely soaked through, and that was a bit yucky. This, added to the fact my feet were starting to hurt quite a bit by now, and the added challenge that I had quite a steep hill to descend towards the end (which seems to be harder on the feet) meant I was very glad when I reached Southease station, especially as by chance it seemed I wouldn't have long to wait for the next train to Lewes. I'd originally contemplated the idea of walking from Southease to Lewes, but I was now at about 15 miles and hobbling a bit, and this just seemed like a good point to stop. Besides, the walk from Southease to Lewes wouldn't be on the South Downs Way!

I arrived in Lewes about 5:15 and limped from there to my hotel - Pelham House - thankfully just a few minutes walk from the station. Although the exterior of the hotel was quite grand and impressive, the welcome at the check-in desk was somewhat lacking (I think given my exertions in getting there today a little congratulation, even if feigned, would not have gone amiss), and my room was a bit of a disappointment - tiny and very bland. Still, it would meet my immediate needs, which were to have a shower and sit for a short while to contemplate what to do for dinner.

I rather fancied a pizza, and used Google Maps to find the one acceptable looking pizza place in Lewes, only to then hobble over there and discover it was closed for the evening, because their chimney needed sweeping (quite a unique reason for an unplanned restaurant closure I thought!) - a pitfall of having a wood fired pizza oven I suppose. Instead, biased not a little by proximity and the desire to minimise hobbling, I went to an Indian restaurant which was actually better than expected for a provincial town. Was pleased to see a masala dosa on the menu.

After dinner I was quite tired out, having got up not long after 6am, and done the longest walk I'd done for probably decades. I did consider just going back to my hotel and having a (very) early night, but even with the long wait between my starter and main course at the Indian restaurant I was all done before 7:30, and it was hard to tell when I might next be in Lewes, a town I knew I was going to like, it being among other things the location of the headquarters of the Chap Magazine.

So I thought I'd just poke my nose in at the Lewes Arms, a pub, similar to the town itself, I just knew I was going to like. Sure enough it was delightful, and as a wonderful added surprise there was going to be morris dancing this evening. So I stayed a while, somehow miraculously managed to stand outside to watch the morris dancing, and watched the local morris side (Blackpowder morris) interspersed with guests from Brighton (Cuckoo's Nest). It was a delightful end to the day.




Comment 1
Lovely write up, mate. Well done.

Posted by Rob Lang at 2018/08/01 19:23:46.
Comment 2
Lovely write up, mate. Well done.

Posted by Rob Lang at 2018/08/01 19:23:47.
Post a comment