Breaky Bottom
Posted on 2018/07/29 13:37:56 (July 2018).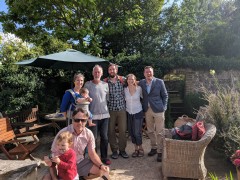 [Saturday 28th July 2018]
Started an otherwise splendid day with a very disappointing breakfast at my hotel, which I'd come to the conclusion was overall really quite naff. The coffee in particular - for which they charged extra - was an abomination - and I should have known better when I asked for a macchiato and the girl taking my order, who, it later transpired, would also be making it, said "somebody told me what that was once".

I checked out of my hotel as quickly as I could after breakfast, and went and sought alternative sustenance elsewhere in Lewes. Thankfully there was a hipster coffee shop wherein I not only had a coffee which was worlds apart, but I could also enjoy blowing off steam with the barista about the prior terrible experience.

After that a bit of shopping, bought some blister plasters and an emergency jacket. It had been far too hot to wear a jacket on my walk yesterday, and it had seemed silly to carry one the whole way, but I was feeling a bit under dressed and it had cooled a bit off today, so I went to Paul Clark, wherein better still they had a sale on, and picked up pretty much the only thing they had in my size, at a bargain price.

I met the rest of today's group at Lewes station - I'd invited a lot of people along, and it seemed hardly anybody could make it which was a bit frustrating as I knew it was going to be a very nice day out. So in the end it was me, Andrew, and four of Andrew's friends with their respective offspring - one couple I'd met before a few times, the other I think I'd only met once before. It seemed they all had an interest in wine though, so I was in good company.

We got the train together to Southease, and from there walked to the slightly surprisingly named Abergavenny Arms (we're a long way from Abergavenny!) in Rodmell for lunch. We somehow managed to stray off the South Downs Way on the way there, and walked along a busy road for a section, which wasn't much fun. Lunch was decent enough, and although the pub was not perhaps the most achingly quaint of country pubs it met our needs adequately enough.

After lunch we walked from there to the main highlight of the day - Breaky Bottom vineyard - which was a much more pleasant stroll - initially up a quiet country lane, and then through undulating fields strewn with hay bales, with views beyond to the rolling hills of the South Downs. The ground was parched almost to the point of golden from the recent heatwave, and added to the silvery blue skies and the chalky white tracks it made for a serene and almost surreal landscape. There was quite a strong, dry summer breeze before we descended into Breaky Bottom's sheltered little valley. Very atmospheric. The vineyard is in quite a hidden spot, and only really comes into view once you've almost arrived, so it's a wonderful surprise, and particularly among the parched yellow gold fields, now mostly bare of their crop, it has the feeling of an oasis in the middle of a desert.

One of our group said it felt as though we had suddenly been transported to France, and the stone farmhouse and winery buildings among the vines definitely gave that sense - perhaps somehow reflecting Peter's part French ancestry.

We knocked on the door on arrival, and after a short while Peter came out to greet us. We were all instantly charmed by this delightful and fascinating man, and spent the next three wonderful hours completely enthralled by him. We started with a short vineyard tour, and I was impressed by how wonderfully verdant and unblemished the leaves of the vines were, despite weeks of drought - and was also happy to see how heavily laden with fruit they were. Peter predicts a very good yield this year. We saw a row of Seyval Blanc, and a row of Chardonnay, but didn't see the Pinots - Peter seemed to be keen to get down to business and start the tasting!

The tasting was the most leisurely, sociable, and just downright delightful of any vineyard tasting I've ever done. We were sat for about two hours, and tasted four of Peter's wines during that time, so had a good long time to savour and discuss each one. Although we did compare tasting notes a bit, Peter was just as (or perhaps more) interested in telling us about the person each wine was named after. These were all fascinating and accomplished individuals, and all friends or family members (or family friends) of Peter's. The conversation constantly went off at tangents, and Peter had a charming habit of asking us to remind him how he got on to a particular tangent. We roamed over the English wine industry in general - many of the other famous winemakers are close friends (or in one or two cases quite the opposite) of Peter's, and also some of the trials and tribulations he has had to deal with in over 40 years of winemaking in this wonderful location.

Perhaps the first of the four wines we tried had a slightly muted reception, but from the second onwards it was hit after hit, for me the "Cuvee Koizumi Yakumo" (Seyval Blanc 2010) and the "Cuvee Gerard Hoffnung" (Chardonnay / Pinot Noir / Pinot Meunier 2009) being the stand-out favourites. By coincidence these were the two we had tasted on Tuesday in Regents Park in preparation for coming here, but of course being in situ at the vineyard and with the winemaker talking to us while we were tasting them made for a much heightened experience.

Sadly by around 5 o' clock it seemed there were other demands on Peter's time - he had some sort of plumbing issue to deal with, and feeling we had already taken up quite a large chunk of his day we suggested it was time for us to head off.

We said our goodbyes to Peter, and reluctantly left Breaky Bottom behind, walking back through that surreal landscape, slightly in a trance, as though half waking from a daydream. We decided to initially pause again at the Abergavenny Arms, and figure out how best for all of us to get back home from there. I was blissfully unconcerned by the passage of time, with Chie and Erika being in Japan, so had no pressure to get back home at any particular time, and hadn't really given much thought to train times etc. Some of the others of course had small kids with them, so it was a bit more of an issue. In the end we split up at this point, with one couple and their little boy staying at the pub for a quick bit of dinner, with the plan to try and get a taxi. The rest of us walked to Southease station, knowing we'd have quite a long wait for the next train, but I at least was quite unfazed by this. We found a nicer path for the return journey to Southease, and it actually made quite a pleasant early evening stroll. There was indeed quite a long wait for a train from Southease, but it came eventually, and from there it all went quite smoothly back to London.



Post a comment