South Downs Way: Petersfield to East Meon
Posted on 2019/01/23 21:10:06 (January 2019).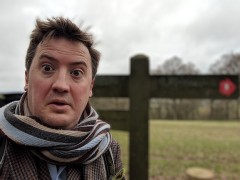 [Saturday 12th January 2019]
I had stayed the previous night in Petersfield, thinking I could then make an early start this morning and cover a lot of ground despite the limited daylight hours this time of year. I had an ambitious goal (which I did not achieve) to get all the way to Exton.

Although I did manage to set out from my hotel at 8am, my choice of accommodation (influenced by not wanting to be too far from the marvellous Harrow Inn) meant I spent the first hour just getting back to Buriton, which was still not even quite on the South Downs Way. This would probably have been a more sensible place to stay the night in terms of getting on the South Downs Way as quickly as possible this morning, but trying to get here in the dark last night after several pints of cider in the Harrow Inn would probably have not been a great idea.

It was rather a grey and dreary day today, and in addition to this my enthusiasm to be out walking was further dwindled by the mostly urban character of the start of the walk, as well as having perhaps ever so slightly too much cider at the Harrow Inn the previous evening. So that first hour to get to Buriton definitely felt like a bit of a trudge.

It was nice to pass through Buriton again though, it's quite a pretty village, and thanks to a tip off about one footpath underneath the railway being closed, I took a slight detour by way of the pond, down a little country lane leading out of the village, under the railway, and through Appleton's Copse, where there were some signs of a former chalk mine. That was all pleasant enough.

So it wasn't until an hour and twenty minutes into my walk - probably about 4 miles - that I saw my first South Downs Way route marker of the day... and then I almost immediately left the South Downs Way again. Here the South Downs Way passes through the Queen Elizabeth Country Park, and takes an oddly indirect route. I had the sense when planning today's walk that anywhere called a "country park" would not comprise the sort of countryside I really like, so decided it best to just take the shortest route through that I could. I was right - it was rather bland, managed woodland, probably fun for mountain bikers (who had some dedicated slalom type runs) but not very interesting as a walker.

Unfortunately the A3 forms a major obstacle here, and what I really would have liked to do is head almost due West from Buriton, and skip the country park altogether, but alas the only crossing of the A3 require heading a fair way South, before then having to head back North again the other side.

The other side of the A3 things did start to improve a bit - a reasonably steep climb up Butser Hill, albeit still very close to the A3, felt a bit more like the wide open countryside I'd come to love along the nicer parts of the South Downs Way. From the top I could see all the way to the sea.

Slightly disappointingly after this the path followed a road for a bit - but it was at least not a very busy one, along a ridge, with reasonable views either side.

It was around this point that I started to weigh up my options for where I should aim to end today's walk. I'd originally thought I might try to get as far as Exton, which would probably have been about a five hour walk in total, but there didn't seem to be much in the way of public transport from there - as far as I could tell no buses run from there to Petersfield on a Saturday. Another option was West Meon, which was almost as far, but at least had buses. The easiest option was to aim for East Meon, also reasonably well served by buses, and the closest of the three villages.

Given a combination of the dreary weather, the long trudge at the start to get out of Petersfield as well as the dull bit going through the Queen Elizabeth Country Park (not to mention the fact I was a bit hungover and also now starting to get quite hungry) I was just not really enjoying the walk today as much as I had some of the previous outings. So I decided to cut my losses, and plumped for the cop out - I would head for East Meon. It would also mean I could get back to London with some of the afternoon still remaining, and spend some time with Chie and Erika, who I felt I'd been neglecting a bit having stayed overnight in Petersfield.

So at Hyden Hill, I said goodbye once more to the South Downs Way, and headed down the hill towards East Meon. I felt emboldened in my choice given that this took me past the source of the river Meon, which felt like a point of interest I might not have seen otherwise. Close to the source little ponds had formed with crystal clear water, and what I almost certainly incorrectly assumed to be wild watercress. Then through farmland, until I eventually reached East Meon, just before midday.

East Meon is a very pretty little village, with an interesting mixture of architectural styles - some thatch, some exposed timerframe, some rendered, some tile clad, some bare brick, and some download stone cladding. A bit of everything. The village has a church, the spire of which I had seen from atop Hyden Hill, two pubs, and a village shop (which I heard some of the locals complaining about later when I was waiting for the bus). I poked my nose in at the shop hoping I might find a souvenir or some interesting local produce, but it seemed to be a Happy Shopper, stuck in a 1980s timewarp, with a lot of half empty shelves, and rather depressing. I can see why the locals were a bit unhappy with it.

I took to surveying the two pubs, to choose where to have lunch. Ye Old George Inn looked a bit gentrified from the outside. Not really my sort of thing. The Izaak Walton seemed to be much more the locals pub, and was a bit basic on the inside - alas not in a charming rustic way. Still, I chose there for lunch, and was glad of the hearty unpretentious vegetable lasagne of the type you only really get in pubs.

Just before 1pm I got the bus (perfectly on time) back to Petersfield. The bus went past the hotel where I'd stayed the previous night on the way into town, and I found it slightly disheartening that thanks to the almost U shaped route I'd taken, my four hours of walking this morning had only actually transported me about 4 miles as the crow flies, and it was all undone with a 15 minute bus journey.

I managed to hop on a train almost immediately at Petersfield station, and was back in London by 2:30.

.

Post a comment