Vinegrowing Course Day 4
Posted on 2019/03/09 09:06:29 (March 2019).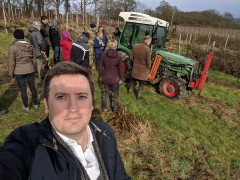 [Monday 4th March 2019]
Down to Haywards Heath / Scaynes Hill for the fourth day of my vinegrowing course. I've got the transport arrangements down to a fine art now, meaning I no longer have to get up at quite such an ungodly hour to get there in time. I get the 07:36 train from Kentish Town, which with a connection at Farringdon gets me to Haywards Heath just before 9, and then I hop into a taxi from there to The Farmers in Scaynes Hill where the morning theory session is held. I've got into the habit of reading some of the relevant chapters of Stephen Skelton's incredibly detailed "Wine Growing in Great Britain" on the train on the way there, from which today the main takeaway was that Skelton is really in favour of steel posts for trellising systems rather than wood (given that wood inevitable rots / breaks).


This morning's theory session started with a recap on vine nutrition, where Chris, the course leader, showed us photos of various vines with different forms of malnutrition, and we had to guess which mineral was lacking. We were mostly quite hopeless at this.

The main focus for today was then site preparation / planting and then vine training systems (trellising). On the latter subject in particular, both from reading Skelton's book and from the lecture this morning, I was amazed about how even this seemingly straightforward subject area quickly got so detailed and complicated. There are many alternatives, however, as with pruning, where Guyot seems to dominate, it seems one system for trellising comes most strongly recommended - VSP (vertical shoot position), wherein you encourage the vines to do what they want to do (grow upwards) and just have a single curtain, which is easily accessible from either side.

As much as the course itself, I think I actually enjoy the tea breaks / lunch break where we have an opportunity to chat with the other attendees. It turned out one of the attendees had planned to buy Frithsden vineyard (which I'd visited last year) but the sale ultimately fell through.

After lunch we headed over to Rock Lodge vineyard for another practical session with Tom. This time we continued on the morning theme of trellising systems, Tom demonstrated tightening the fruiting wires, then we also had a go at post-pruning tying down which was quite a satisfying job. Tom also got the tractor going and showed us how to grub up a vine. Although sadly for safety reasons we weren't allowed to have a go at driving the tractor ourselves, which clearly everyone wanted to.

The practical session was cut slightly short by a sudden torrential downpour and hailstorm. I got quite wet getting from the far corner of the vineyard where we'd been tying down the vines to the toolshed, the only place which had any cover. By time I got there it had pretty much stopped.

One of the other attendees kindly gave me a lift back to Haywards Heath again, and I squelched into the Waitrose next to the station to see what local produce they had - I bought a couple of bottles of Sussex Wine (I was particularly excited to see Breaky Bottom in a supermarket!) and some Sussex bread and cheese.



Post a comment