Avebury
Posted on 2019/06/24 22:54:40 (June 2019).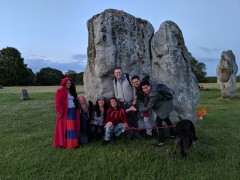 [Friday 21st June 2019]
I do not know quite where the idea to do something for the summer solstice originated between me and the usual suspects (Andrew, Jim and Ricardo). This is something which had been there in the background since at least this time last year, when Andrew had remonstrated us for completely failing to organise anything for the previous longest day of the year.

We are all somewhat cynical chaps, quite a long way from your classic New Age traveller stereotypes, and yet to some extent or other we're all in the throes of a midlife crisis, and I suspect we're all to some degree wondering why we're here and so forth. Perhaps that is overstating it, and the others may have just been looking for an excuse for a boozy jolly and something a bit different to break up the monotony. I at least though was quite excited at the prospect of touching upon something atavistic and primeval like this.

That said, getting there and back was a bit of the hassle, not least because two of my three travelling companions seemed to have a surprising lack of familiarity with the UK rail network. One (who shall remain nameless) asked earlier on in the day whether trains to Swindon went from Kings Cross. This would have seemed baffling enough in isolation, where it not for the fact that just minutes before our train was due to leave Paddington we got a message from another member of our group along the lines of:

"I'm at the station, where are you all?"

"We're at the station, on the platfrom by the train."

"Errrr... it is Kings Cross the train goes from isn't it?"

So it took a bit longer for us all to get to Swindon that originally planned, but given it was the longest day of the year by the time we had all arrived, around 5:30, we still had several hours of daylight ahead of us.

We got a taxi to Hackpen Hill, so we could walk a bit of the Ridgeway to Avebury. I wrote an account of the walk on John Goes For a Walk.

We arrived at the outskirts of Avebury a little after 8. Coming in as we did along the Wessex Ridgeway from the east, we encountered a few New Age types who had parked their vans along the track. Again, we really didn't fit the stereotype I had assumed for solstice attendees. Me particularly - not just that I seem to look out of place everywhere given the way I dress but I had a portable ice bucket with a couple of bottles of English sparkling wine in it. However we walked together for a little way with a couple of people who I assumed to be regulars, and they seemed entirely unfazed by our relatively strange appearance and trappings. I recall internally reacting with knee jerk cynicism to the description of the summer solstice at Avebury I was given as we walked along - "it has a really good energy"... but I think ultimately I would come to agree with that sentiment, albeit that I would feel compelled to put it in slightly more reserved terms - perhaps atmosphere rather than "energy".

After a walk around the stones, we eventually settled on the ridge towards the south east of the stone circle where it seemed the largest concentration of people were gathering to watch the sunset. Of course the main event for the summer solstice was the sunrise, but not being New Age types we were still at the mercy of full time employment, and couldn't so easily make it there for that. I was pleased to see though that there was still a decent turnout for the sunset. I suspect some people had just stayed there all day.

Again I felt a bit out of place as we set up our little pitch on the ridge, for our decidedly middle class mainstream society picnic - with bottles of English sparkling wine (I had put some thought into this and procured a couple of bottles of the sparkling wine made by nearest vineyard, Maud Heath), drank out of little plastic cups, and an accompanying cheese board. We should probably have been drinking mead, or at a bare minimum something a bit more primal like cider.

Objectively, in terms of pure cold hard aesthetics, the sunset itself probably wasn't the most spectacular or dramatic I'd ever seen... but something about being in that place, at that time, amongst all those other people with a somewhat common purpose made it actually quite special. Indeed, it did have an "energy".



Comment 1
Hisashiburi ni mimasita.
Sutekina shoshin desita.
Subarashii otenki no hi ya
Igirisu rashii hi nado tanoshimimasita.
Erika chan no titi no hi no ka-do
Jyouzuni kaketeitane! Ji mo e mo!!

Posted by Yoko at 2019/07/19 14:12:35.
Comment 2
Hisashiburi ni mimasita.
Sutekina shoshin desita.
Subarashii otenki no hi ya
Igirisu rashii hi nado tanoshimimasita.
Erika chan no titi no hi no ka-do
Jyouzuni kaketeitane! Ji mo e mo!!

Posted by Yoko at 2019/07/19 14:12:38.
Post a comment