Harvey's
Posted on 2020/04/30 22:53:55 (April 2020).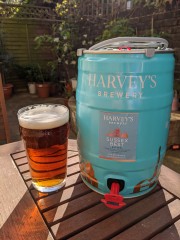 [Tuesday 21st April 2020]
Took delivery of two kegs of Harvey's Sussex Best Bitter today.


Comment 1
I love my cider but I only had to look at your pictures of Harveys Bitter and I could taste and enjoy it even without being there at your pub. Thank you.
Talking about cider ... a small box of mixed bottled Dunkertons is on its way to you.

Posted by Devon Man at 2020/05/01 14:09:07.