Sunday Stroll
Posted on 2020/04/30 22:53:57 (April 2020).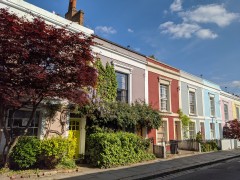 [Sunday 26th April 2020]
Some of the daytime pottering around in the garden, followed by a late afternoon walk, ended up going all the way down to Kings Cross and back.

Gnocchi in a cheese sauce with broccoli for dinner.



Comment 1
Pink blossom on way to Kings Cross ... I am fairly certain this is Horse Chestnut

Posted by Dad aka Devon Man at 2020/05/03 08:37:39.