Out in the Garden
Posted on 2020/08/03 10:37:51 (August 2020).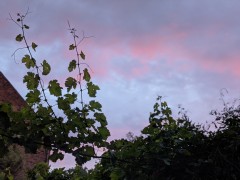 [Friday 31st July 2020]
Spent some of the evening out in the garden again.


Comment 1
hi!
Johnsan.
Erika,chie,ga inakute samisii
desyou?
Erika said to dady's message nihonngo ok!!
She growup!
She is biginning to understand.
kawaiine!! amusing funny and interesting!



Posted by Chikako Moriwaki at 2020/08/11 13:02:40.
Comment 2
Hi John!
Erika and Chie are not with you so you must be lonely?
Erika said for comments on daddy's blog Japanese is ok!!
She has grown up!
She is beginning to understand.
She is so cute!!
Amusing funny and interesting!
Translated from Japanese to English

Posted by Erika at 2020/08/14 13:09:28.