Saturday
Posted on 2020/09/05 13:50:14 (September 2020).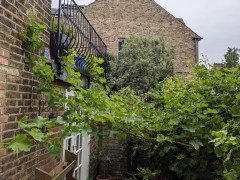 [Saturday 29th August 2020]
The Saturday of the August Bank Holiday weekend - just had a quiet day close to home ahead of our trip to Cambridge the following day.


Comment 1
Hi!
How are you!
Nice night sky seem through
the vines is bery good.

Erika mage bages is beautiful
kawaii ne!!!





Posted by ChiKako Moriwaki at 2020/09/11 05:27:25.
Comment 2
Hi Chikako-san,

It's really nice to know that you see these photos, thank you for leaving a message! I also really enjoyed the message you wrote together with Erika.

Yes it has been a good year for the vines so far - there are more than 30 bunches of grapes. I might even be able to make some drinkable wine this year! I love our garden, it's small but it's so nice watching the plants grow and the seasons change.

Posted by John at 2020/09/13 22:38:50.