Back from the Midlands
Posted on 2021/10/31 10:11:35 (October 2021).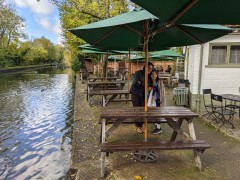 [Saturday 30th October 2021]
Drove from the East Midlands back to London in the morning, stopping off for lunch in Hemel Hempstead of all places, and happened upon a nice pub called the Three Horseshoes by the canal. Later on in the afternoon the girls went off to do pumpkin carving with local friends, and I went and sat in the woods on the heath until it got dark.


Comment 1
Iroiro na tokoro ni ikeru youni natte yokatta ne !

Posted by Yoko at 2021/10/31 14:00:48.