Cissbury Ring and Chanctonbury Ring
Posted on 2022/02/05 11:13:41 (February 2022).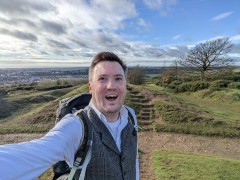 [Saturday 29th January 2022]
The girls were otherwise engaged for pretty much the whole day, so I decided to head down to the South Downs, to repeat a walk I had enjoyed before - from Worthing to Washington, via Cissbury Ring and Chanctonbury Ring.


I took my GoPro with me so in addition to the photos there's some video footage of my walk:





Comment 1
Epic!

Posted by Dad at 2022/02/05 11:52:25.
Comment 2
Hisasiburi no walking !
Hisasiburi no aozora !


Posted by Yoko at 2022/02/05 14:09:06.